Rock the House
A new design line enables you to be as fashionable on the inside as you are on the outside.
---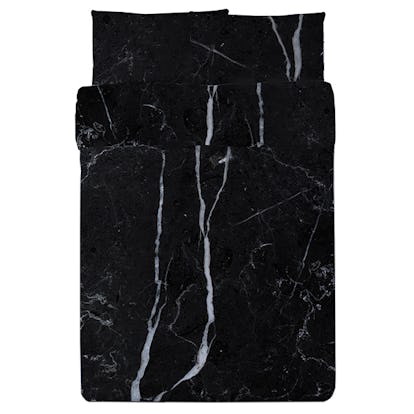 If you are into the marble prints Alexander Wang sent down the runway for his debut Balenciaga show for Fall/Winter 2013, then we fully encourage you to try the look at home. Safe House USA is a new home furnishing brand created by New York-based interior designer Keehnan Konyha, whose inaugural collection consists of six totally rockin' prints, which come as duvet covers, pillow shams and upholstery fabric, and which Konyha dubs "streetwear for the home." Even if he shrugs off any direct links between Balenciaga and his own designs, he does see a connection between fashion and interiors. "But the chain of influence is rather slow," says the 32-year-old. "With Safe House USA I wanted to create the ability to adapt more quickly—to address a customer as familiar with style.com or Vfiles as they are Apartment Therapy." Konyha's aesthetic references are as deeply embedded in the physical as they are in the virtual world and he also runs an influential tumblr as well as eponymous blog. On the latter he artfully juxtaposes, say, the images Andy and Kate Spade's home with the interiors of Mexican telenovelas, photographs of the late Felix Gonazlez Torres's apartment with a 1995 interview with Ross Bleckner, or Lisa Frank's Tuscon headquarters with poetry by 19th Century romanticist William Wordsworth (with Mariah Carey chirping in the background). This seemingly non-sequitur approach also found its way onto the Safe House USA website, where Konyha paired each print with sometimes obscure literary quotes. "So much of branding involves the adoption or invention of these fictitious and completely banal and pointedly inoffensive voices in an attempt to appeal to as large an audience as possible," Konyha explains. "I find that both boring and insulting. The reuse of these texts feels much more natural to me."
Launched less than a week ago, Safe House's duvet sets are already flying off the virtual shelves, and that despite the fact that they're made of somewhat ominous sounding polyester poplin, rather than trusted cotton. "I know polyester is a horrifying red flag for a lot of people," says Konyha, with a laugh. "And it was for me until I actually felt the material and I realized I was dealing with my own preconceptions and not the actual potential of the fabric. The sanded poplin genuinely has a great drape to it and it feels exactly like cotton, with the advantage that the dye doesn't fade." For now the collection is all black and white, but Konyha promises an explosion of color for next spring. "That's the other advantage of polyester: it's capable of producing the most incredibly brilliant colors."
Click here to listen to (and download) Safe House USA's "Stay The Night" mixtape by Jamie Crewe aka Poisenous Relationship.