Keira Knightley Can't Stop Making Out With a Married Woman in Colette Trailer
With a red-haired Eleanor Tomlinson, that is—not her onscreen husband, Dominic West.
---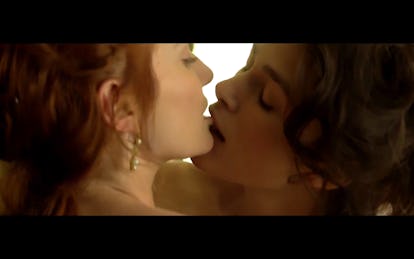 Courtesy of Lionsgate
Keira Knightley has officially hit her peak of proving herself a master of costume dramas—especially of the romantic sort—as the titular star in the new trailer for the far from stuffy literary biopic Colette, directed by Still Alice's Wash Westmoreland, which hits theaters in the U.S. on September 21. The first trailer, which came out in July, kicked off with Knightley reassuring the friends of her older flirt of a husband, played by a nearly unrecognizable, mustachioed Dominic West—who's lately been dabbling in the period pieces himself, landing the starring role of Jean Valjean in an upcoming Les Misérables miniseries—that his "wild days have just begun," which couldn't be clearer in the latest one, which packs in three steamy make-out sessions within two and a half minutes.
Rather than her husband, who's named Henry Gauthier-Villars but uses simply "Willy" as his nom de plume, or the charming young gentleman he suspects, though, they feature Knightley kissing the latter's wife, played by the 26-year-old British actress Eleanor Tomlinson.
From there, C only lets even further loose on belle epoque France, angered by Willy's having convinced her to ghostwrite what turns out to be his first-ever novel, which flies off the shelves—largely thanks to its popularity among young women—and then becoming determined to continue taking credit (and cash) for her work, which he initially criticized as "too feminine." (At least on one occasion, he locks her in a room and orders her to write.)
Colette, of course, is too good for this, and she knows it, so she sticks to following her own rules. That includes not just striking up an affair but abandoning her former "country girl" Sidonie-Gabrielle Colette self—and her interest in men—for her own brazen mononym, chopping off her long braids into a chic, Coco Chanel–like bob. While debuting her new go-to outfit, a black suit complete with a tie, she even smiles at her husband for the first time in ages—at least, in response to his denial to publish anything whatsoever featuring her name, before she throws a hefty stack of papers at his face.
Related: See Keira Knightley's Style Evolution As the Ultimate It-Brit
Keira Knightley, Lover of Messy Hair and a Smoky Eye, Is a Master of Effortless Red Carpet Beauty
Arriving at the London premiere of Love Actually in 2003, Knightley loosely pinned her hair back.

Getty Images/WireImage
Knightley rocked an edgy, tousled blond bob and golden smokey eye at the Pirates Of The Caribbean 2: Dead Man's Chest premiere.

Getty Images/WireImage
Wearing her auburn locks in tousled up do, Knightley glowed with dewy skin, full lashes and a glossy red lip at Pirates Of The Caribbean 2: Dead Man's Chest premiere in 2006.

Getty Images/WireImage
Knightley attends the Toronto International Film Festival in 2007 with a '70s-inspired look, complete with big soft curls and a heavy smokey eye.

Getty Images
Dewy skin, a neutral eye with a simple bun was all that was needed for this elegant look at The Duchess world premiere in 2008.

Getty Images
Attending the 5th International Rome Film Festival in 2010, Knightley wore her newly chopped locks in a wavy bob with a fresh face and a pink lip.

Getty Images/WireImage
Knightley kept her look simple and sleek with a slicked back up do and a dark smokey eye at the 55th BFI London Film Festival in 2011.

Getty Images/WireImage
At the world premiere of Anna Karenina in 2012, the starlet keeps her brunette locks in a messy up do with a dramatic eye and a nude lip.

Getty Images
With loose curls framing her face, Knightley wears a smoky purple eye and a babydoll pink lip at the "Can A Song Save Your Life?" Party in Toronto. (2013)

Photo by Getty.
Knightley attended the 18th Annual Hollywood Awards in 2014 with her hair in big soft curls.

Getty Images/WireImage
A simple, side-parted bun with sun-kissed skin and a satin pink lip was Knightley's look at The Imitation Game New York film premiere. (2014)

Photo by Getty.
Knightley attended the 2015 Writers Guild Awards with softly tousled hair, rosy cheeks and a pink lip.

Getty Images/WireImage
Embellishing her twisted up do with a floral hairpiece, Knightley wears a light contour on her cheekbones with a berry lip at the 72nd Annual Golden Globe Awards in 2015.

Photo by Getty.
At the 21st Annual Screen Actors Guild Awards in 2015, Knightley radiated natural beauty with her hair loosely pinned back and smokey eye.

Getty Images/WireImage
Attending the Culture CHANEL exhibition opening in Venice in 2016, Knightley wore her loose, tousled up do with a nude pink lip.

Photo by Getty.
At a Chanel Fine Jewelry dinner in 2016, the actress had sun-kissed skin and wavy hair.

Patrick McMullan via Getty Image
At the Chanel Cruise 2017/2018 Collection in Paris in 2017, Knightley wore a deep brown smoky eye with her long brunette locks in polished waves.

Photo by Getty.