Pop Goes Brazil
Seldom-seen Keith Haring artworks come back to life in a rustic Brazilian getaway. Armand Limnander pays a visit.
---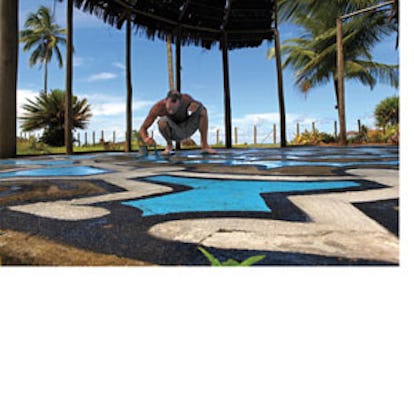 In 1983, Tereza Scharf and her husband, the artist Kenny Scharf, purchased 160 beachfront acres in the state of Bahia, Brazil. The New York–based couple longed for a place to relax, and since Tereza had grown up in the nearby town of Ilhéus, she knew the area well. The land came with a humble two-bedroom house, which was all they needed at the time. A few months after they settled in, their good friend Keith Haring came to visit, and he immediately set about decorating the shack with a splashy mural of dolphins in his unmistakable pop style. Not long before he passed away, Haring came back and embellished the floor of their newly built beach cabana.
A few years ago, Tereza decided to spruce up Paraiso Verde (as she calls the property): She constructed five ecofriendly but perfectly appointed "tree houses" overlooking the ocean and asked Kenny to restore Haring's weather-beaten artworks to their original condition. The project caught the attention of the Keith Haring Foundation, which worked with director Guto Barra to document the process for an upcoming film on Haring.
Although Tereza has begun renting the houses from time to time, she stresses that she has no desire to run a hotel. Paraiso Verde is a half-hour drive from the trendy town of Itacaré and just five minutes from Txai, an upscale resort, but Tereza is interested in hosting only guests whose idea of a power scene is chilling out on the beach, visiting the nearby waterfalls, taking yoga, learning to surf, or enjoying a home-cooked feijoada. "This place has always been a nature retreat for artists and friends," she says. "I'd love to have more people visit, but they have to be able to truly appreciate what's here" (011.55.73.9971.7371; casaparaisoverde.com).
Photos: courtesy of Kenny Scharf