Keith Urban's Tour Logo Looks Suspiciously Similar to That of the Movie Good Time
Maybe we'll get a Safdie Brothers movie starring Nicole Kidman out of the kerfuffle.
---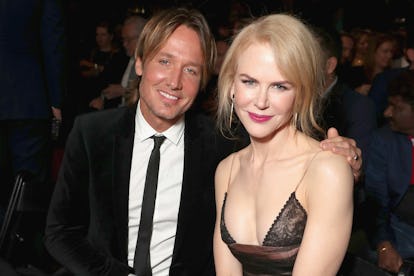 Todd Williamson/Getty Images
When musician Keith Urban](http://www.wmagazine.com/topic/keith-urban) posted the first promotional graphics for his Graffiti U world tour a month ago on January 17th, the initial reaction was what you'd expect: country music fans excited he was coming to their town. But sometime over the last few days, indie film fans picked up on the similarities between Urban's logo and that of the Robert Pattinson-starring gritty crime drama Good Time, which was directed by the Safdie Brothers. Indie film powerhouse A24, who distributed the film, chimed in, writing on social media, "@goodtimemov sees you ?," under an image comparing the logos.
The joint Twitter account of directors Josh and Benny Safdie also shared their thoughts through emojis.
Of course, it is possible that the logo is an intentional homage. One has to imagine that being married to Nicole Kidman means that Urban watches a lot of indie films from up-and-coming directors. Good Time also premiered at the Cannes Film Festival, of which Kidman was this year's unofficial queen (she had four projects at the fest, and was given a special award). Incidentally, A24 was the producer or distributor of two of those Kidman projects (The Killing of a Sacred Deer and How To Talk to Girls at Parties).
So, hopefully this is something that can be dealt with in a rather friendly matter, and at least one Safdie fan saw a possible upside:
Although, it is also possible that someone in the design department at Urban's label was just feeling inspired by the movie, and Urban himself didn't pick up on the similarities.
A24 is probably just happy the drama is bringing more attention to Good Time, which is currently available On Demand and won rave reviews for Pattinson's performance. In fact, the critical consensus is that the film made the best case yet for Pattinson's status as a leading man to take seriously.
Plus, having your logo ripped off is a pop culture rite of honor at this point. How many times have you seen the Stranger Things logo appropriated in the past two years?