Keke Palmer Isn't Scared of the Spotlight
The "Scream Queens" star dishes on her acting, her new album, talk show, and more.
---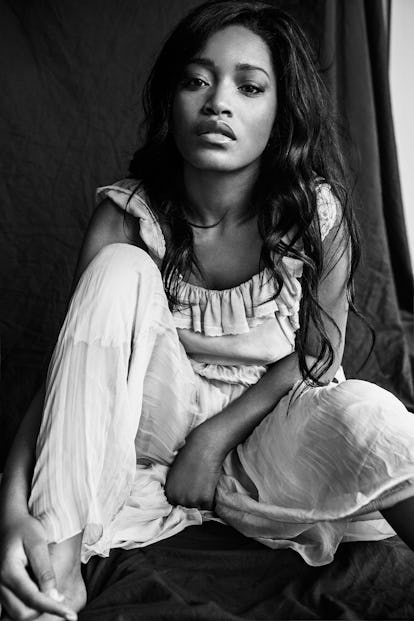 Photograph by Victoria Stevens for W magazine.
Keke Palmer is the kind of person who grabs your arm when she talks to you, even if you've only just met. We're chatting on the bed in her Times Square hotel room, overlooking Broadway, where she emerged as the first black Cinderella this time last year. We're not alone. Her mother—and "mom-ager"—sits on the bed next to us along with Keke's childhood friend, a scriptwriter, and a casting director for an upcoming film she's set to star in. Also in the room is her hair stylist, her makeup artist, her acting agent, her record label agent, her record label agent's assistant, and wait, who are you and why are you asking if Keke wants to order meatballs at 11:30am? (The answer: "Yes, please.")
"I don't really have time for myself," says Keke, who made her acting debut at age nine in Barbershop 2: Back in Business, with a smile. After that came her breakout role as Akeelah in Akeelah and the Bee. Now, at the age of 22, she's one of the stars of Ryan Murphy's Scream Queens, which premieres September 22ndon FOX.
"My work is my life," Keke says. "I've worked so much that I don't know the difference between my personal life and my work, or my personal friends and my work friends." In addition to Scream Queens, she's also juggling the release of her second album and working her own talk show, "Just Keke," which premiered last year on BET, making her the youngest talk show host in television history.
So, how does she do it? "I've done a lot of meditation studying on my own, but I've also taken a couple of transcendence classes," Keke says, talking a mile a minute with a Midwest accent, a testament to her childhood in Illinois. "I do twenty minutes [of meditation] in the morning and twenty minutes in the afternoon. It clears my mind and allows me to be ready for the next thing, without getting so compact that my mind goes into overload."
Being on Broadway was a real challenge, (Keke admits to having forgotten her lines once or twice), but in a good way. "Broadway was life changing because it pushes you mentally, physically, emotionally—every way that you can be pushed," she says. "It makes you feel like there's nothing you can't do. It's like doing your own stunts."
It would seem that nothing scares Keke, not even Scream Queens, where sorority girls played by Emma Roberts, Leah Michelle, Abigail Breslin, and even Demi Lovato, can be killed off without warning. The series is also bold in its politics, showing the dark side of American college life and white privilege. Think Clueless meets American Horror Story.
The only thing that seems to worry her is the thought of not growing or moving forward. "Staying stagnant is not okay," she says. Not that that is an issue. After our interview (and her meatballs) Keke will be headed back to New Orleans to finish filming Scream Queens. Her next move? Hitting the town with friends on Halloween, of course.