Kelly Clarkson Calls Out iHeartRadio for Not Playing Her Songs
She called out iHeartRadio for not playing her music.
---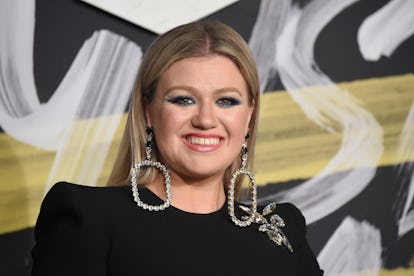 Mike Coppola/Getty Images for CMT
Kelly Clarkson has a new talk show, but she's still keeping up with her music career. When iHeartRadio congratulated her on the honor of getting her own show on NBC, she replied by giving a lesson in throwing shade.
"#iHeartFestival performer? Check," the company tweeted. "Talk show host? Check. @kelly_clarkson is doing it all ✨" That tweet didn't sit well with Clarkson, though, as she responded with "….except for getting my songs played on your stations." "I guess I'm cool enough to invite but not cool enough to play my record," she tweeted, before adding, "#truth #check #seeyasaturday HAHAHAHAHAHA #MeaningOfLife"
The last hashtag is in reference to her most recent album, Meaning of Life, which was released last October. Somehow, in between working out the details of her new talk show and working on new music, Clarkson has found time to tour behind the album. She's about to embark on a massive world tour starting January 24 in Oakland.
The pop artist announced the news of the The Kelly Clarkson Show earlier this week while chatting with Jimmy Fallon on The Tonight Show. "This is a big announcement. It's not been announced yet, but you're getting your own talk show," Fallon said, to which Clarkson replied with, "Well, it's been leaked. It's daytime, we're gonna be on right before Ellen… I love talking, it's like my favorite pastime."
Despite being billed as a talk show, Clarkson's program is going to be equally rooted in music. It's "going to be a little different," Clarkson said. "We sing every day on the show, do this fan request thing. On the pilot, I got people to sing with me and do these little skits. It's very musical as well. It would be weird if it wasn't. But if you don't like music, you probably shouldn't watch."
Clarkson's transition into the millennial Ellen DeGeneres isn't surprising considering her whole career has been predicated upon her connection with fans through television. The American Idol inaugural winner has now been a staple on TV for 16 years, plus she's been a regular on The Voice. Given her résumé, not being played on iHeartRadio seems like it couldn't matter any less.
Related: How Kelly Clarkson Finally Released the Album She's Wanted to Make Since Junior High