Kellyanne Conway Buys $7.8 Million D.C. Home in Attempt to Become Beltway Socialite
Kellyanne Conway is throwing open the doors of her new Massachusetts Avenue Heights home to the Washington, D.C. powers-that-be.
---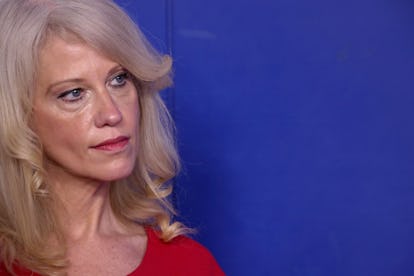 Chip Somodevilla
Kellyanne Conway has had many lives. Before serving as Donald Trump's spin doctor, she's done time as a lawyer, a pollster, and a one-time aspiring edgy stand-up comedian. Now, as her position in the White House remains tenuous, it seems she wants to reinvent herself as a grand dame of the D.C. social scene—and perhaps reinvent that social scene in the process.
Mansion Global reports that Conway has purchased a $7.8 million home in the tony Washington neighborhood of Massachussetts Avenue Heights.
"I intend to dive into social hosting," Conway told the publication, but added, "I'm the poorest kid on the block."
Her new neighbors, the magazine notes, include billionaire Secretary of Commerce Wilbur Ross, who recently bought his own $12 million home. So the home could certainly attract some high net worth guests and end up a must-stop on the social circuit.
Though, one has to take these "social hosting" comments with a grain of salt. They were, after all, made by Kellyanne Conway. But leaving aside the fact that she herself often leaves aside the facts, the notion is still more questionable considering who Conway works for. In D.C. these days, power players' main form of communication with each other seems to be over Tweet or via cable news. That wasn't always the case.
In more refined times in D.C.'s past, parties were the nexuses of influence. Senator Lyndon Johnson wooed Washington Post publishers Philip and Katharine Graham with stories from Texas on the D.C. party circuit, and found he had the Post's support on race long after he deserved to. And this examination of the D.C. social scene by Maureen Orth in Vanity Fair finds President Jimmy Carter was hurt by teetotaling habits, whereas the Clintons, according to Dee Dee Myers, went big on entertaining, perhaps to their detriment.
"The Clintons expanded the size of state dinners and had them in a tent," Myers told Vanity Fair. "They had two or three events and lined them up for a week in the tent. They had the Emperor of Japan in a tent. The thing about the Clintons is that more is always more. It loses intimacy and grace."
News of Conway's new home was followed by a report that her husband will not take a job at the Justice Department, but it's still entirely possible that Conway will be a success in D.C. society, given that scene's curious nature.
The town's social texture seems to change dramatically depending on who's in the White House. Recall this 2013 New York Times piece about the Obama years:
"Meanwhile, in the trendy corridors of this city, the Good Stuff Eatery on Capitol Hill will be serving its signature Prez Obama Burger (with applewood bacon and Roquefort cheese) and its Michelle Melt turkey burger (free range, of course, on a whole wheat bun), the staff at the Boundary Road restaurant on H Street Northeast will be pouring craft beers from Baltimore and Brooklyn, and at the U Street Music Hall, the rock music will be playing long after the swearing-in is over."
Alas, that's all over now and we're back to the bad old days, seen in this 2007 piece, about how Costco now does the catering at every D.C. meal prefaced by the word "power."
"I do it — Costco all the way," said the writer Sally Quinn, who is known for the power salons she puts on with her husband, the former Washington Post editor, Ben Bradlee, at her Georgetown town house.
…
Ellen Bennett, a fine art photographer and the wife of Robert S. Bennett, President Clinton's personal lawyer in the Paula Jones case, has thrown an open house "Costco party" each Christmas since 2004.
"Pigs in blankets, salamis, salmon, shrimp, pâté, cheese," said Mrs. Bennett, remembering her parties.
In such circumstances it's entirely possible that Conway could become the equivalent of at least a Shriver-level Kennedy. Everything's relative. Remember that John Boehner is now considered to be so liberal that he basically threw a rave at the Republican Convention last year.
Related: Kellyanne Conway Is Sorry if Her Clothing Offends the "Black-Stretch-Pants Women"
See What's Trending in W Video: