Yellowstone Star Kelsey Asbille Grows Into Her Cherokee Identity Onscreen
Reintroducing the One Tree Hill star, all grown up now.
---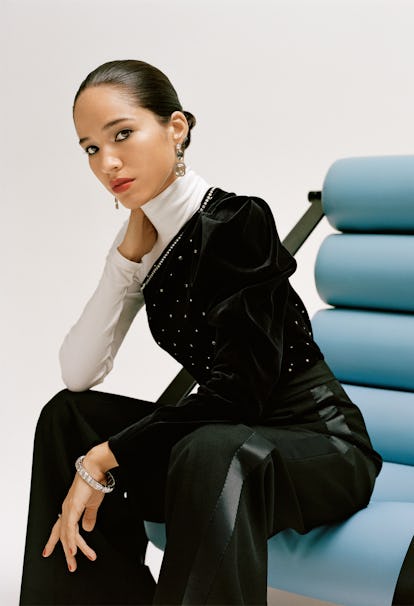 Photograph by Jeff Henrikson; Styled by Jasmine Hassett. Hair by Tamas Tuzes for R + Co at L'Atelier NYC; Makeup by Justine Purdue for Nars cosmetics at Streeters; Manicure by Michina Koide for Dior at Art Department; Set Design By Josephine Shokrian; Photography Assistants: Eduardo Silva, Jesse Gouveia; Fashion Assistant: Paget Millard; Set Design Assistant: Jory Rabinowitz; Production Assistant: Christina Montes; Balestra Lounge Chair by Marzio Cecchi: Courtesy of Nicholas Kilner Gallery; Special thanks to Salt Studios.
When it comes to training actors in the not so glamorous realities of the job, Stella Adler's got nothing on The Disney Channel. "It really is the best professional experience," says Kelsey Asbille, who, as a 17-year-old just starting out in the business, did a stint on the network's hit series The Suite Life of Zach and Cody. "Those live sitcoms are like a hybrid between television and theater. And with a live audience of kids, if you're not funny you're not getting any mercy laughs. It's terrifying!"
Luckily, Asbille, now 27, had a little help from a very experienced—though somewhat unlikely—teacher: her co-star Jaden Smith's dad. "He was at the table read—which you really wouldn't expect— and he sort of mentored us all through the sitcom," she says of Will Smith, who, she points out, is the "O.G." of the half-hour high school comedy. "It was almost surreal."
After Zach and Cody, Asbille who grew up in South Carolina, where she found her happy place performing in school plays and community productions, continued her on-the-job drama education with roles on several other teen shows (One Tree Hill, Teen Wolf), all the while pursuing a very different sort of learning: an undergrad degree at Columbia University, where she's majoring in Human Rights. Now, she's moved on to more grown up fare, starring as Monica, a Native American who marries into a powerful ranching family, on the Kevin Costner-helmed Paramount Network Western, Yellowstone. "She's an extraordinary woman in extraordinary circumstances," says Asbille of her character. "She's a wife, a mother, a teacher. And at the heart of it, the story is really about a strong woman trying to keep her family together."
The project has provided Asbille, who is of Chinese, English, and Cherokee descent, the opportunity to learn more about one piece of her multi-faceted lineage. "It's been a blessing to get to explore native culture," she says, adding that indigenous rights has also become a focus of her studies at Columbia. "As a person of mixed race, as you get older it matters more to you who you are and where you come from. So to be able to get in touch with that side of my heritage has been amazing. I'd like to do that with all aspects of my heritage in the future."
And Yellowstone has also, she adds, offered her another chance to learn from some of her onscreen idols. "Working with people like Kevin Costner and Kelly Reilly, who I look up to so much, is like taking a master class," she says. But her castmates, she admits, weren't what initially drew her to the part. "It was all Taylor Sheridan," she says, pointing out that the Yellowstone writer-director cast her in her breakout role, a sex crimes victim in his 2017 directorial debut, Wind River, which she still considers her best work. "I owe him everything," she says. "Well, him and my mom. Make sure you get that last part on the record!"
And what of Smith, her original on set acting coach? Are they still in touch?
"I wish," she says with a laugh. "I have so much to ask him! But I follow him on Instagram and that's where I get all my life advice now, from Will Smith's Instagram. I sound like a stalker but, honestly, that whole family is incredible."