Kendall Jenner, Supermodel and Real Estate Mogul, Just Bought a Multimillion-Dollar Mansion
There's even a movie theater.
---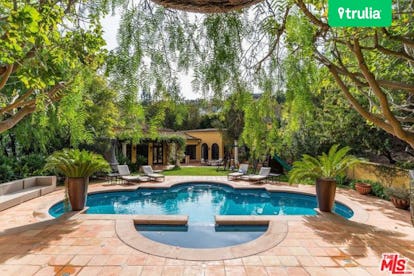 Courtesy of Trulia
In addition to her day job as an international supermodel, Kendall Jenner is also, apparently, a real estate mogul.
The 21-year-old has purchased an $8.55 million, five-bedroom, six-bathroom mansion in Beverly Hills, Trulia reports. The neighborhood, Mulholland Estates, is famous for its celebrity inhabitants including Christina Aguilera and everyone's favorite Snapchat legend/music producer, DJ Khaled. Kendall's new digs actually once belonged to Charlie Sheen, who sold it last year for $5.415 million.
The 6,625-square-foot home was built in 1991 (so it's only four years older than its new owner) and features a huge kitchen, a movie theater and big, cozy living spaces that will be great for hosting the usual Kardashian family get-togethers. Outside, there's a pool, fire pit, and tennis court, and the front of the house is surrounded by foliage and secluded behind a gate, so Jenner can enjoy plenty of privacy while at home.
Jenner's latest purchase is actually the third home that she's bought in as many years. According to Trulia, she moved into her first "starter home" in Westwood, Los Angeles, in 2014 for $1.3 million, then sold it for $1.6 million in 2016. She traded up to a $6.5 million mansion that she bought from John Krasinski and Emily Blunt, then sold is that house for $6.85 million.
Exclusive: Kendall Jenner Proves Her Skills as a Photographer with Backstage Images from Paris Haute Couture
Putting the finishing touches on Bella Hadid, backstage at the Miu Miu resort presentation.

Photographs by Kendall Jenner
Joan Smalls and Lara Stone (from left) chatting at Miu Miu.

Photographs by Kendall Jenner
Photographs by Kendall Jenner
The lineup at Fendi Haute Fourrure.

Photographs by Kendall Jenner
Karlie Kloss getting curls for a shoot with Mario Testino.

Photographs by Kendall Jenner
Last calls before the Fendi show.

Photographs by Kendall Jenner
Photographs by Kendall Jenner
Photographs by Kendall Jenner
Watch: Kendall Jenner Gets Real: "I'm Weird, I Love My Tits Being Out"