Kendall Jenner Is Selling the West Hollywood Mansion That Was Burglarized
She owned the property for barely a year.
---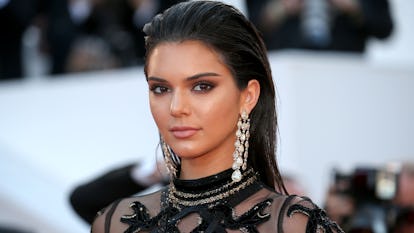 Gisela Schober/Getty Images
Just 14 months after purchasing her West Hollywood mansion from John Krasinski and Emily Blunt, Kendall Jenner is unloading the house, TMZ reports.
Kendall has a complicated history with the property: Last August, only a couple months after she bought it, a man was arrested for following the supermodel onto the property and screaming at her through her car window. She opened up about the scary stalking incident on a subsequent episode of Keeping Up With the Kardashians, explaining, "I came home one night and there was a guy sitting on the side of my street. I was like, 'That's so weird.' He just looked like a homeless man. So I drove around and I went into my house and I watched the gate close. I turned my car off, getting my stuff together, I'm about to open my door and I look in my rearview mirror and he was standing, like, right there. I just saw his figure."
She continued, "I called one of my friends immediately — I'm sobbing, crying. He's at my window, banging on my window, screaming at me. I finally start backing out and I get to my gate, the gate opens and I get out, and all of a sudden he starts running after me. At that moment is when my friends pulled up. They had him sit on the curb and we waited for the police to come, and I'm, like, crying, freaking out."
As if that weren't traumatizing enough, in March of this year, burglars broke into the 21-year-old's house and allegedly stole $200,000 worth of jewelry. After it was revealed that there were no signs of a break-in at the house, TMZ and People reported that Kendall believed the robbery was an "inside job" and then fired a security guard. She also beefed up her security detail and considered installing more security cameras in and around the property.
Although the LA pad was clearly not a good fit for Kendall, it'll surely make somebody else extremely happy. The Midcentury-style house sits on a third of an acre and boasts six bedrooms and five bathrooms. The master bedroom features a huge walk-in closet and spa-style bathroom, and there's also a pool, a massive kitchen with Italian cabinets, a media room, and a rooftop patio complete with fireplace. Although Krasinski and Blunt originally listed the home in early 2016 for $8 million, Kendall snagged the property for $6.5 million and reportedly put down $2.5 million in cash, according to TMZ.
Related: Kendall Jenner's Feud With a Brooklyn Bar Baby's All Right Will Not End
Kendall Jenner Rented Out Magic Mountain on Her Birthday: