What Comes Between Kendall Jenner and Her Calvins?
The model fronts Calvin Klein Jeans's new #mycalvins series.
---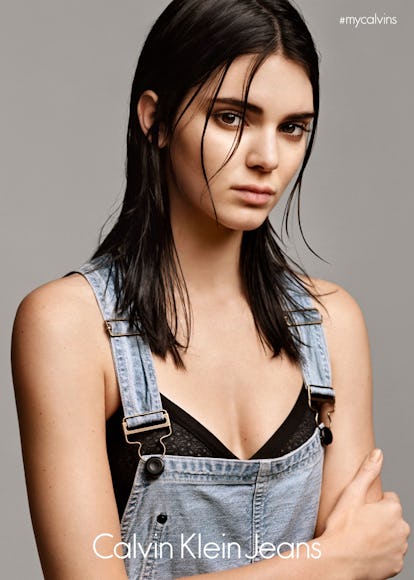 With nearly 22 million followers on Instagram and 10 million on Twitter, Kendall Jenner is the perfect face—and body—of Calvin Klein Jeans's social-savvy #mycalvins collection, which updates logo-emblazoned sweats and effortless denim separates made for the downtown set. "This series is an expression of the athletic trend that's happening right now," said the brand's Global Creative Director, Kevin Carrigan. "These are the ideal wardrobe essentials for an active, youthful lifestyle like Kendall's." The line, which launches exclusively at Opening Ceremony on April 15th, gives both brands the opportunity to leverage Jenner's vast reach—and gives the model a bit of street cred as she joins the ranks of past campaign stars Kate Moss, Lara Stone, and, of course, Brooke Shields. "I've grown up wearing the brand and seeing the iconic advertising in magazines and on billboards featuring some of the top supermodels," Jenner said. "To now be a part of that legacy is truly an honor."
Photos: What Comes Between Kendall Jenner and Her Calvins?
Kendall Jenner for Calvin Klein Jeans. © Alasdair McLellan
Kendall Jenner and Simon Nessman for Calvin Klein Jeans. © Alasdair McLellan
Kendall Jenner for Calvin Klein Jeans. © Alasdair McLellan
Simon Nessman for Calvin Klein Jeans. © Alasdair McLellan
Kendall Jenner for Calvin Klein Jeans. © Alasdair McLellan
Kendall Jenner and Simon Nessman for Calvin Klein Jeans. © Alasdair McLellan
Simon Nessman for Calvin Klein Jeans. © Alasdair McLellan