Kendall Jenner, Model, Photographer, Taker of Selfies, Does All That and More in a New Collaboration with Ippolita
Jewelry brand Ippolita tapped supermodel Kendall Jenner as its new creative collaborator with a Ryan McGinley-lensed campaign to be released this fall.
---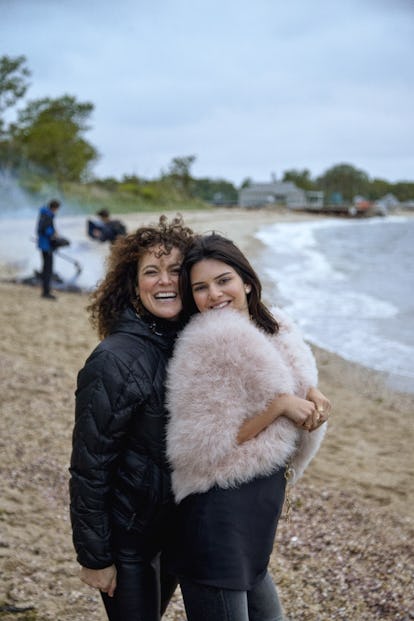 Courtesy Ippolita
On a recent summer day in Glen Cove, New York, photographer Ryan McGinley, jewelry designer Ippolita Rostagno of the eponymous label Ippolita, and supermodel Kendall Jenner gathered at St. Josaphat's Monastery, a palatial Tudor Revival mansion on Long Island, to inaugurate their first collaboration. Around 10 years ago, Rostagno designed the "Cherish" necklace that has since become a perennial bestseller for the brand; while the jewelry market has shifted, Cherish has remained a constant. So it was around that essential piece that Rostagno began devising a new line of 80 pieces that encompasses more accessible price points, ranging from $195 to $55,000—and recruiting Kendall Jenner as her new creative collaborator and the face of the new campaign, shot by McGinley.
Ippolita and Jenner's team began discussing a partnership earlier this year, crystallizing with the shoot earlier this month that will be unveiled in full this fall. The campaign will feature two juxtaposed images: One of Jenner shot by McGinley, and a self-portrait of Jenner, who turned McGinley's camera on herself during the shoot.
"This is a very selfie-obsessed culture and it's very, I found, tongue-in-cheek," Rostagno said Friday, unveiling the partnership. (In addition to being an amateur photographer, Jenner, who made her photographic debut shooting Kaia Gerber for Love Magazine last year, is also a noted selfie aficionada.) "It sort of diffuses the seriousness of it," she added.
Throughout our conversation, Rostagno stressed the importance of collaborators with a "point of view." So what, I asked, did she perceive as Jenner's point of view, and how did that align with her own? "Her point of view is to dress down with your clothes and dress up with your jewelry," Rostagno said. She also sought out a fine-art photographer for precisely the same reason, adding that she plans to recruit more art photographers in the future.
The Jenner-McGinley collaboration has echoes of Ippolita's most recent campaign, which placed model Camille Rowe in front of fashion photographer Paolo Roversi's lens. Indeed, Ippolita is well-acquainted with artist collaborations—last year, the brand released a charm bracelet with contributions by the likes of Mickalene Thomas, Laurie Simmons, and Cindy Sherman—so Jenner's involvement as creative collaborator, and not just model, could be read as a stamp of approval of her artistic ambitions.
Kendall Jenner's Most Grown-Up Looks
Kendall Jenner. Photo by Kevin Tachman.
Kendall Jenner in Calvin Klein Collection
Photo by Sherly Rabbani and Josephine Solimene
Kendall Jenner. Photo by Getty Images.
Kendall Jenner in custom Calvin Klein Collection.
Photo by Getty Images.
Kendall and Kylie Jenner. Photo by Getty Images.
Kendall Jenner, Chanel Iman, Jourdan Dunn, and Toni Garrn.
Photo by Sherly Rabbani and Josephine Solimene
Working with two artists with distinct perspectives—though McGinley is the more seasoned image-maker, Jenner has forayed into photography—required Rostagno to cede a measure of control to the pair. But this confidence that she could entrust her work to another has been a part of the designer's philosophy when approaching her clients, too: "I've never been a fan of creating very identifiable symbols in your line because the point for me about jewelry is having women appropriate it to their own style and not feel like they're wearing a brand, necessarily," she explained. "There's a certain amount of comfort and ease that comes with saying this is mine."
But Jenner's role as creative collaborator—rather than simply a model in these select images—could extend beyond her work on the campaign, Rostagno explained, adding that she envisioned them collaborating in the design studio as well as in front of the camera.
"Beyond the hype, she's a real style maven, and to me, the clearest indicator is what she looks like when she's not in the spotlight," Rostagno told me. "Looking cool and sexy at all times is very much part of her M.O. and that's very much part of my point of view as well," she added.
Kendall Jenner, performance artist, channels the greats of the medium: