Kendall Jenner Finally Speaks Out About Pepsi Commercial Controversy: "I Completely Shut Down"
The model opened up during the season premiere of Keeping Up with the Kardashians.
---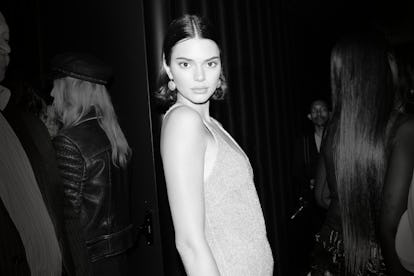 If you turned into Sunday night's season premiere of Keeping Up with the Kardashians hoping to get confirmation of any one of the family's rumored pregnancies, we offer our sincere condolences (but, come on, did you really think Kris Jenner was going to play her ace on the first episode?). We may not have gotten any baby news, but what we did get was some closure on a six-month-old controversy that once plagued the most reserved sister.
While the main storyline of the season premiere revolved around Khloe Kardashian's life in Cleveland, where she has temporarily relocated to support her boyfriend (and alleged father of her unborn child), NBA player Tristan Thompson, the B-plot touched upon Kendall Jenner's controversial Pepsi commercial from earlier this year, which was accused of making light of issues surrounding the Black Lives Matter movement and police brutality.
In the episode, we are first introduced to the Kardashian-land telling of the events not by Kendall herself, but rather a testimonial featuring Khloe and Kourtney, who have just received a tearful call from the model while getting facials in an oxygen-infused plastic bubble set up in Kourtney's backyard.
"Kendall did a commercial, and basically caused a huge controversy, and it sucks because Kendall's been taking the blame for it all," said Khloe. "Kendall tries to be really socially conscious and aware of the jobs that she takes, and aware of how things affect other people, so it weighs really heavy on her heart. She's super sensitive with this kind of stuff. Kendall's intent is never to disrespect or offend anybody."
As Kourtney chimes in, family friend Russell Simmons has also texted her that Kendall can, "turn this into a positive."
Not everyone feels the same as the rap mogul, evidenced by a barrage of angry tweets plastered across the screen. After commercial break, Kendall took to a testimonial of her own to speak out on the commercial for the first time.
"When I first get this offer, I mean, it is a huge company.," she said. "The people I was following were so iconic and amazing. Michael Jackson has done it, Britney Spears has done it, Beyonce, Pink—the list goes on. To get something like that, it was so exciting. I trusted everyone. I trusted the teams. After I saw the reaction, and read what people had to say about it, I most definitely saw what went wrong. I was so stuck and I really didn't know what to do, so I completely shut down."
Later on, the model breaks down in tears as she admits that she fears her career may be over. "I feel really, really bad," she said. "I feel really bad that anyone was ever offended. I feel really bad that this was taken such a wrong way, and I feel like sh-t. I have no idea how I am going to bounce back from it. I don't know what to do… I would never purposely hurt someone, ever, and if I knew that this was going to be the outcome then I would have never done something like this, but you don't know when you are in the moment. I just felt so f-cking stupid. The fact that I would hurt or offend other people was not the intent, and that is what got me the most."
Luckily, the 21-year-old model is related to someone who is no stranger to controversy. "This is the first time you've had a scandal," said half-sister Kim Kardashian. "This is your first real experience with something like this. This is going to be the biggest lesson learned… It really sucks, but the only thing you can do is be real and honest. You can't ignore it. You can't. It should affect you in a way that you learn from it and you grow from it. I just wish that you could see that there is light at the end of the tunnel."
And since this was all taped months ago, by now we all know that that light includes plenty of new ad campaigns, a newfound passion for photography, and, oddly enough, a feud with a niche Brooklyn bar—but perhaps that's being saved for the mid-season finale.
Related: Why Britney Spears's Pepsi Commercials Were Perfection, and How Kendall Jenner's Went So Wrong
Kendall Jenner Gets Real: "I'm Weird, I Love My Tits Being Out"
Exclusive: Kendall Jenner Proves Her Skills as a Photographer with Backstage Images from Paris Haute Couture
Putting the finishing touches on Bella Hadid, backstage at the Miu Miu resort presentation.

Photographs by Kendall Jenner
Joan Smalls and Lara Stone (from left) chatting at Miu Miu.

Photographs by Kendall Jenner
Photographs by Kendall Jenner
The lineup at Fendi Haute Fourrure.

Photographs by Kendall Jenner
Karlie Kloss getting curls for a shoot with Mario Testino.

Photographs by Kendall Jenner
Last calls before the Fendi show.

Photographs by Kendall Jenner
Photographs by Kendall Jenner
Photographs by Kendall Jenner