Fun Times
Kenny Scharf teams up with Movado for a playful batch of watches.
---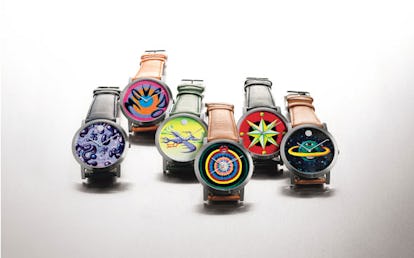 Anyone who knows anything about Kenny Scharf knows that the famed artist has rarely met an object he hasn't customized. In a classic example, the phones, scanners and printers in his Los Angeles office became his prey. Most recently, it was a pair of iRobot Roomba vacuums. Scharf transformed them into little creatures replete with painted eyeballs and mouths, and named them Spic and Span. "They're like my pets," he says. "Just like in The Flintstones, they wait for you to turn them on, and when they're done, you just put them away."
It's no surprise, then, that when Efraim Grinberg, Movado's president and CEO, invited Scharf to trick out the firm's iconic Museum watch, the painter got a bit carried away. Rather than design one timepiece, as Grinberg had suggested, Scharf delivered a slew of ideas. "It was hard, but we narrowed them down to what we thought was a diverse group of offerings," says Grinberg, who purchased Scharf's 1983 painting Brazil after meeting the artist three years ago.
In the end Grinberg and his team settled on six whimsical, cartoonlike motifs for the watches (below, from left): Blurple Time, Movado Time, Time Flies (Scharf's favorite), Starring the Star (Grinberg's favorite), Ontime and Universal Time. Some of the designs are original to Movado; others feature adaptations of Scharf's existing works.
The limited-edition timepieces, launching in September, are the latest additions to Movado's Artists' Series, which debuted in 1987 with a watch designed by Andy Warhol just months before his death. Scharf, who spent a lot of time with Warhol in the Eighties, says he's happy to follow in the horological footsteps of his hero. For this collection, Movado produced only 100 of each Scharf watch to be sold individually, along with 25 box sets of the sextet. "You can wear one a day," notes Scharf before he's reminded that there are seven days in a week. "Okay, you can rest on the seventh day; you don't even need to look at a watch on that day."