Gucci's Parent Company Invests in Kerby Jean-Raymond's Vision
A major show of support for one of New York's brightest Black designers.
---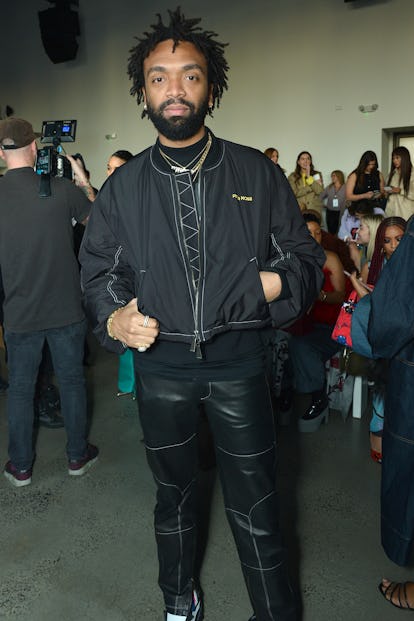 Shannon Finney/WireImage/Getty Image
Ever since this summer's unprecedented wave of protests first erupted, companies have been scrambling en masse to show that they're on the right side of history. And while a cynic might suspect Kering's motives in partnering with Pyer Moss's Kerby Jean-Raymond—marking a rare show of support for Black talent—the luxury conglomerate actually started making plans with Raymond in 2019. In fact, if it weren't for the pandemic, they would have announced their partnership back in March.
Instead, it was this Thursday that Kering's CEO and Chairman François-Henri Arnault announced his unequivocal support for Raymond and his latest fashion foray, Your Friends in New York. There isn't much in the way of specifics just yet, but Raymond is clearly stepping into a different world from Pyer Moss. Your Friends in New York describes itself as a "community-focused platform" aimed at addressing the rapid evolutions of the fashion and retail industries, incorporating music, wellness, philanthropy, and art.
The plan is to create an "ecosystem of creativity," where brands—Pyer Moss among them—can experiment with their customer relationships. Through an incubator-esque program, up-and-coming designers are to do the same. Oh, and there will also be merch. It all launches in 2021, which might be why they're already planning to host events.
Kering, of course, is one of the biggest corporate players in the current fashion ecosystem. Its stable of brands include Gucci, Balenciaga, Yves Saint Laurent, and Bottega Veneta, each of which have been reinvented by critically acclaimed designers over the past few years. In other words, the company knows how to spot talent that resonates.
Early in the pandemic, Raymond established himself as one of the leading forces in fashion's coronavirus relief efforts. (He even converted Pyer Moss's office into a donation center.) Perhaps it's no surprise, then, that the staunchly political designer seems most excited about Your Friends in New York's community-based efforts, like providing mental health services to children and public housing residents. So far, the only post on Your Friends in New York's Instagram is a cinematic love letter to New Yorkers who've stayed put in the city. "I will go down with this ship," Dido croons in a clip from her "White Flag" music video, while Leonardo DiCaprio yells "they're going to need a wrecking ball to take me out of here" in a scene from The Wolf of Wall Street.
Meanwhile, there's another mystery on fashion's horizon. The newly relaunched Hood by Air is also only just getting started, and if there's anyone who could match Raymond's ambitiousness, it just might be fellow beloved designer Shayne Oliver. His July announcement of the label's return promised a new direct-to-consumer platform, a new incubator for up-and-comers in music and art, and a new designer-in-residence program for its archives.
Related: Kering Adds Emma Watson, Jean Liu and Tidjane Thiam to Board of Directors