Not Kidding Around
Designer Kidada Jones has found fulfillment in an unlikely role: making Disney cool for grown-ups.
---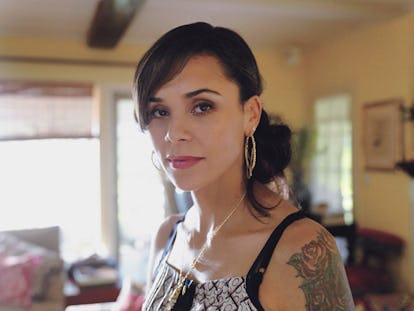 Kidada Jones has loved Disney ever since she was a kid in Bel-Air, California, and 12 years ago, the elder daughter of music impresario Quincy Jones and actress Peggy Lipton made it official. She got a tattoo of Tinker Bell from Walt Disney's Peter Pan on her left calf. But it's not just a facsimile of the fairy. This Tinker Bell has her own body art and wears Adidas flip-flops. "She's sassy, loyal, stubborn and impulsive," Jones says of the pixie. "She makes no apologies."
Jones's sketch for a diamond-accented Pinocchio pendant that will hang on a silk cord.
Jones, too, possesses many of those same qualities, which makes the 34-year-old former model and actress a surprising but vital member of the Disney consumer products team. She landed the job after working as Tommy Hilfiger's muse for eight years and building a now-defunct clothing line for Snoop Dogg for three. From her first Disney interview in 2005, "the magic was there," Jones says. And the Tink tattoo "was the final sign we were on the same page, the cherry on the sundae."
Jones started by ironing an old image of Alice in Wonderland onto a T-shirt and sending it to her pal Nicole Richie, who wore it at the Coachella festival. "We got so many calls about that shirt," she says over lunch at Disney's Glendale offices. A baby-faced brunette nearly always in sneakers, Jones is wearing Bambi earrings and a Disney charm bracelet of her own design and carrying a Ratatouille keychain, which actually makes it a light Disney accessories day. "Usually I'm decked out," she says.
Over the years, her job has expanded to include consulting on existing Disney projects; designing Kidada for Disney Couture, a line of clothing and jewelry for adults sold at boutiques; and acting as a conduit to hip tastemakers the brand might otherwise miss. "Kidada is not just one of those people that points out what's cool," explains Jim Calhoun, Disney's executive vice president of consumer products, North America. "She has a real hand in making things cool." In 2005, for instance, she was part of a team that reinvented Tinker Bell, creating T-shirts with edgy Japanese label Hysteric Glamour and organizing a screening of Peter Pan for what she describes as "an eclectic group of influencers."
"Kidada manages to make the need to keep your childhood imagination alive cool," says her sister, actress Rashida Jones. And indeed, Kidada describes herself as a "kidult"; besides Disney collectibles, her Hollywood home is filled with Strawberry Shortcake, Hello Kitty and My Little Pony memorabilia. "When I have kids, I won't be able to differentiate my shopping sprees from theirs," she jokes. Children, however, are not in the immediate plan: Kidada is single, having been briefly married to actor Jeffrey Nash. (She was engaged to Tupac Shakur when he died in 1996.)
Jones's parents split when she was 12. "When I heard they were separating, my first thought was, Ooh, two houses! Freedom!" Jones recalls. "The sadness hit much later." Happily, Lipton and her ex remain close, even spending holidays together.
After high school, Jones found her calling at L.A.'s Fashion Institute of Design and Merchandising, though she left at 19 to work for Hilfiger.
On the L.A. party scene, Jones is more often the DJ than a guest. "My sister succeeded in scholastics; music and pop culture was my knack," she says. She also paints—sometimes tweaked Disney scenes, like Winnie the Pooh wearing Air Jordans. Her family indulges her Disney obsession. (In addition to Kidada and Rashida, Quincy Jones has five children from other relationships with whom Kidada is close.) Her father even wears Disney Jibbitz in his Crocs because he thinks Kidada designs the trinkets. "I tell him they're not mine," Jones says, "and he says, 'They may as well be. I tell everyone they are.'
"My family advocates doing what fulfills your soul," she says, adding that the notion that she's had everything handed to her by her parents is wrong. "They've always said, 'You're a big girl; figure it out on your own.'"
And judging by her gig at Disney, Jones has done a pretty good job in that department. "I've landed in a place where I can make everything I want for myself," she says. "It's playtime for me. It's a dream."
Hair by Tand; makeup by Byron For Byron Williams Salon