Hot Shod
A new museum show charts the heights of chic—from 17th-century courtesan pumps to Lady Gaga's eight-inch platforms.
---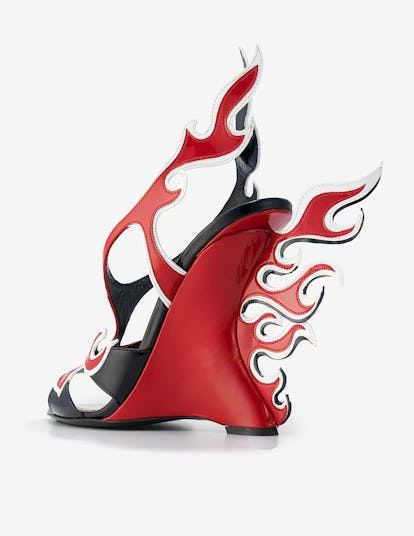 Louboutin lovers, kick up your heels. The Brooklyn Museum's exhibition "Killer Heels: The Art of the High-Heeled Shoe" (September 10 through February 15, 2015) promises to satisfy—and edify—your inner Imelda Marcos. Along with specially commissioned artist films and interactive features like "shoe selfie" photo booths and 3-D design workshops, the show highlights more than 160 elevated shoes, old and new. From the towering leather, wood, and silk chopines of 17th-century Venice—the trappings of choice for the city's flamboyant courtesans and trophy wives—to Elsa Schiaparelli and Salvador Dalí's fanciful, inverted Shoe Hat of the late 1930s to the eight-inch-heel platform booties created a couple of years back by United Nude for Lady Gaga, these extravagant confections stand tall in more ways than one.
Elevated footwear has always been theatrical. It originated in the arenas of ancient Greece and Rome, where actors wore cothurni—sandals with chunky platform soles—to heighten their visibility from the nosebleed seats. Over time, shoes that raised the wearer's physical profile came to denote lofty social standing, as well, and were taken up by men (yes, men) peacocking as kings of the hill. At ancien régime Versailles, only courtiers of noble or royal pedigree could sport the coveted talon rouge, a cloth or leather pump with a stacked red heel. The look spawned copycats throughout Europe: "Killer Heels" shows a snappy pair from 18th-century Britain. Still, the talon rouge remained associated with Bourbon royal privilege, so much so that when Napoléon Bonaparte crowned himself emperor in 1804, he made a point of wearing flats—his vertically challenged stature be damned. The tiny general's gesture marked the end of an era, not only of monarchist rule in France but also of high-heel male power-dressing throughout the Western world.
On female feet, the high shoe has had a parallel history as a prime emblem of womanly allure. In the case of the Venetian chopines, their adoption by ladies of easy virtue led the public to associate extreme footwear with X-rated fun. A similar perception cropped up about 100 years later in Japan, courtesy of a dual-pedestal wood-and-cloth thong sandal called geta, which transformed a woman's natural gait into a dainty ballet of minuscule, mincingly graceful steps. More recently, Marilyn Monroe worked her wiggling, come-hither magic in a pair of sleek Salvatore Ferragamo stilettos, one heel of which she reportedly filed down so that the resulting unevenness would exaggerate the swiveling of her hips.
Heels are still a weapon of choice in any seductress's arsenal—their power made playfully plain by Chanel's gun shoe, a sandal with a faux-pistol for a heel. Revamping the shoe as fetish object, Céline devised a mink-covered pair of sandals last year that recalled the surrealist Meret Oppenheim's 1936 fur-lined teacup and saucer—naughty analogues for female genitalia.
Like the Schiaparelli-Dalí collaboration, the Céline-Oppenheim connection attests to the increased blurring, in the modern era, of the boundaries between fashion, art, and design. The architect Zaha Hadid recently explored footwear's sculptural potential with her Nova shoe, a complicated edifice wrought from leather, fiberglass, and chromed vinyl. And the Japanese designer Noritaka Tatehana has gone so far as to strip away the high heel's defining feature, the high heel. Like any avant-garde artwork, such footwear challenges our most basic assumptions: It obliterates the line between practicality and perversity, dullness and danger. However at odds with women's basic ambulatory needs, heels this deadly unquestionably belong in a museum.
Wedge sandal from Prada's spring 2012 collection. Courtesy of Prada.
Salvatore Ferragamo sandal from 1938. Courtesy of the Metropolitan Museum of Art, gift of Salvatore Ferragamo.
Atom, from Noritaka Tatehana's 2012–2013 collection. Courtesy of Noritaka Tatehana.
A 19th-century Manchu shoe. Courtesy of Brooklyn Museum, Brooklyn Museum Collection.
Ghada Amer's A Pause in an Abstract Painting, 2014. Courtesy of Brooklyn Museum, Brooklyn Museum Collection.