Killing Eve Season 3 Episode 1 Fashion Recap: And the Bride Wore Black
Villanelle is once again dressed to kill—this time, in Simone Rocha.
---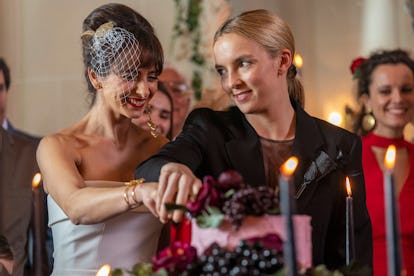 Laura Radford/BBCAmerica/Sid Gentle
The first spoiler alert of season 3 of Killing Eve, which premiered on Sunday night, almost goes without saying: Eve Polastri (Sandra Oh) is alive and well. At least, as well as she can be. What with her husband's hospitalization and her latest fallout with Villanelle (Jodie Comer), Eve has sunk into a black hole of depression. Quite understandably, that also means she's experiencing her greatest sartorial slump to date. Of course, it was always Villanelle who made style so central to their relationship—not to mention the show itself. But Eve definitely had more to her wardrobe than mismatched loungewear back in her MI6 days.
Villanelle, on the other hand, is still reliably serving up looks. Like her breakout ensemble—a pastel pink confection of a Molly Goddard dress—her first is made of ruffled tulle. It's also the first of several Simone Rocha pieces Villanelle wears to kick off season 3, and definitely the most somber. And yet, Villanelle isn't dressed in head-to-toe black because she's in mourning. Surprise: She's getting married, and her wedding attire is just as unconventional as is her toast at the reception.
"When I first met Maria, I thought, Great shoes," Villanelle says, sharing pretty much the only thing we know about Maria. (Aside from the fact that she also has a great house and a great tailor.) There are a few titters, but the room is silent when Villanelle turns to her recent breakup: "When I think about my ex today," she continues, "I realize, I'm so much happier now she's dead."
Even if Villanelle was planning to say she was kidding, she doesn't get the chance. Instead, a distraction arrives in the form of a chic older woman dressed in a tweed suit. Abandoning any sense of normalcy altogether, Villanelle makes a run for it and attacks her. Apparently, the woman (Harriet Walter) is Villanelle's ex-murder mentor. Her name is Dasha—something we know only because her name is stamped onto her excellent collection of track suits.
These days, Dasha moonlights as a gymnastics teacher, and invites Villanelle to hit the mat with some of her newer students. She's wearing a definitely non-stretch pair of overlay trousers—not to mention a much fancier hairstyle than at her wedding—but joins in on the stretching nonetheless. Upon dismissing her students, Dasha extends quite a different invitation: She'd like Villanelle to make a comeback, starting with a "political agitator" not far from where they are in Spain.
Naturally, Villanelle accepts, bringing us one last look in the process: a boiler suit that's standard-issue, but still has a hint of Jean Paul Gaultier.
Related: Killing Eve Season 2 Finale Fashion Recap: In Cold Blood Red