Kim Cattrall Says She Made an 'Empowered' Decision Not to Do Sex and the City 3
"This is about a clear decision… to end one chapter and start another."
---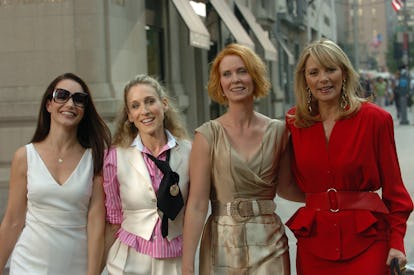 Richard Corkery/NY Daily News Archive via Getty Images
For many, Sex and the City was a show about empowered women living their best lives. But, when news broke that Kim Cattrall had opted out of a threequel, some turned on the show's most liberated character for that very personality trait. "Woke 2 a @MailOnline ?storm! The only 'DEMAND' I ever made was that I didn't want to do a 3rd film….& that was back in 2016," Cattrall tweeted in response to the rumor that inadequate pay had factored into her decision. So what did? Cattrall has now outlined exactly why she chose not to reunite with her cast members for a third movie, and her reason couldn't be more relatable.
"This isn't about more money, this is not about more scenes, it's not about any of those things," she told Piers Morgan, according to The Daily Mail. "This is about a clear decision, an empowered decision in my life to end one chapter and start another. I'm 61. It's now."
It's impossible to argue with that; Cattrall has paid more than her due to Sex and the City fans, providing them with not only a series and two films but also endless nuggets of wisdom to chomp on—which are still widely circulated to this day on Twitter (in fact, Cattrall retweeted one after news spread that she wasn't in on the threequel—perhaps, the only thing beginning with a "three" that Samantha Jones has turned down.) There is also the fact that Cattrall has spoken out about how playing Samantha impacted her career post-SATC. "I was pigeonholed very early on, and then that expanded with Sex and the City and then that was another pigeonhole," she told Entertainment Weekly back in 2011. "Now that is changing and evolving, and I'm very happy about that because to have longevity in this business is a real challenge." Cattrall is allowed to have a career outside of SATC and fans should respect that—as should the cast.
However, it was her fellow co-star Sarah Jessica Parker who announced that Sex and the City 3 was officially not happening last week. "It's over… we're not doing it," she told Extra TV. "I'm disappointed. We had this beautiful, funny, heartbreaking, joyful, very relatable script and story. It's not just disappointing that we don't get to tell the story and have that experience, but more so for that audience that has been so vocal in wanting another movie."
Cattrall later addressed that statement to E! News, saying, "I really think she could have been nicer. I don't know what her issue is, I never have." Perhaps she was referencing the pair's long-rumored differences with each other, especially (allegedly) while filming the second movie.
Cattrall also told Morgan that while "there is genuine affection and there has been over the years," "this is extenuating circumstances and in the past I've felt, wow, especially with the fans I don't want to in any shape or form ruin an ideal of it, because it does stand for empowerment and it does stand for women sticking up for each other, but not always."
In the meantime, there's always Cattrall's Twitter to hang onto, where she frequently drops gems like her love of another film about female solidarity, Girl's Trip.