Kim Jones Will Succeed Karl Lagerfeld at Fendi
Fendi has appointed Kim Jones to fill Karl Lagerfeld's shoes. The British designer will still keep his job as the creative director of Dior Homme.
---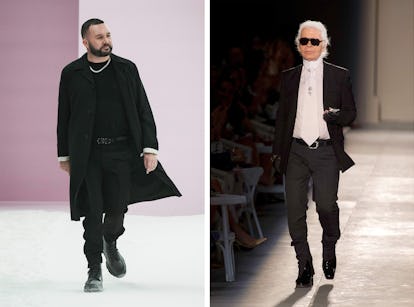 L: Photo by Francois Durand/Getty Images / R: Photo by Kristy Sparow/WireImage/Getty Images
For 54 years, Karl Lagerfeld sat at the head of the Fendi women's wear label. After his passing in 2019, the position went unfilled, but now, just one day shy of what would have been the designer's 87th birthday, Fendi has chosen someone to fill his shoes: Kim Jones.
Jones is the designer who gave you the Supreme fanny pack a few years back, thanks to his role as Louis Vuitton's men's artistic director, and the same one who coaxed Kate Moss out of retirement for a runway walk alongside Naomi Campbell in 2018 (Moss's first since 2013). That was all before taking over Dior Homme, which he did in March 2018.
What's also notable about this appointment, though, is that Jones will also keep his spot at Dior. It's not unheard of. Tom Ford was at the helm of both Gucci and Yves Saint Laurent from 1999 to 2004, and Lagerfeld overlapped at both Chanel and Fendi for 36 years.
When Lagerfeld was at the helm of Fendi, it was all about fur—and, according to a report from The New York Times, the label expects Jones to be responsible for its women's fur collections, in addition to haute couture and ready-to-wear. As cities like Los Angeles ban the sale of new fur, and other luxury labels like Gucci and Versace have agreed to stop using fur in their designs, one has to wonder how Jones will handle what is now considered to be an unconscionable effort against sustainability at his new gig.
Even though we're living through a pandemic, LVMH, which owns Fendi as well as Dior, does not appear to be fazed by the struggles most luxury brands are dealing with due to economic downturn. The appointment of Jones to the head of Fendi is the second major business move that LVMH made this year to place a designer with a penchant for streetwear at the helm of one of its fashion houses, with Matthew Williams taking over Givenchy.
Related: Dior's Kim Jones Curated a Contemporary Auction for Sotheby's