Kim Kardashian Was Spotted with Blue-Black Hair
It's her Yeezy Season 8 look.
---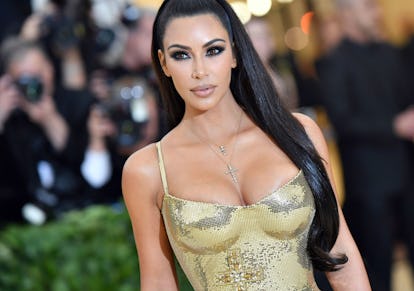 ANGELA WEISS/AFP/Getty Images
Don't you dare tell Kim Kardashian to lighten up for summer. She's got her own plans, which, as of today, apparently include a blue-black hair shade straight out of a Batman comic.
Kardashian's longtime colorist Chris Appleton announced the look with two new photos on Instagram, both showing Kim rocking a deep, almost violet shade, which Appleton refers to as "blue black." It's the gothic look I would have killed for in high school, rendered especially chic thanks to Appleton's fine-tuning and Kardashian's middle-parted, waist-length mane.
Kardashian has been switching back and forth between her natural brunette shade and platinum recently for husband Kanye West's birthday, but she hasn't had a noteworthy color since she rocked pink back in February, so it was about time for an Appleton original change-up. And upon further inspection—yes, we zoomed—the shade isn't a wig.
Naturally, Kardashian revealed the fresh look by matching her latest hair to a new, seemingly Yeezy Season 8 outfit. From the ground up, she's in all blue: thigh-high boots, skintight leggings, and a matching top. Even her sunglasses are tinted blue. In another photo from around the same time, she's styled in head-to-toe bright orange. Interestingly enough, her blue hair appears more indigo in one photo and more navy in another, but we'll just have to wait until she posts a selfie to decide for sure. For now, let's just say that the shade makes her look like her own evil—if very chic—twin.
Appleton has been responsible for Kardashian's most significant hair changes over the years, from platinum to pale pink to her natural brunette. Their hair transformations regularly take hours to complete. "When I color the hair, I always use a very slow process and to keep the integrity," Appleton previously told Allure. But good things come to those who wait, and a never-before-seen shade on a Kardashian is something worth waiting for.