Kim Kardashian Is Now Seeking a Pardon for Convicted Felon Chris Young, With Help From Jared Kushner
With the help of Jared Kushner and Donald Trump.
---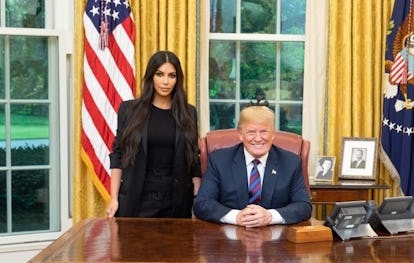 twitter.com/realdonaldtrump
Kim Kardashian's political career didn't end with 63-year-old Alice Marie Johnson, whom she helped free from life in prison for a nonviolent drug offense—she's only getting started. The reality TV star has now turned her attention to another convicted felon, 30-year-old Chris Young, who was sentenced to life in prison for marijuana and cocaine possession after being arrested in 2010.
Kardashian has been building a case for Donald Trump to consider—as he granted clemency to Johnson—with help from the president's son-in-law, Jared Kushner. The mother of three revealed her focus on Jason Flom's Wrongful Conviction podcast, per Page Six, saying that Kushner is also "passionate" about changing sentencing laws.
"Yesterday, I had a call with a gentleman that's in prison for a drug case—[and] got life," she says on the podcast. "It's so unfair. He's 30 years old. He's been in for almost 10 years." She has also phoned the judge who sentenced him, former Judge Kevin Sharp of Tennessee, who resigned immediately after Young's case because of how unfair he thought the sentence was. "I was on the phone with the judge," she says, "who resigned because he had never been on the side of having to do something so unfair, and now he is fighting [alongside] us to get [Young] out."
It's clear that Kardashian is one of the very few who have Trump's ear. (Reality stars, they just get each other.) While it's admirable to use her power to free victims of the criminal justice system, she could be effecting so much more by using her platform to create positive change for entire communities rather than just individuals. Perhaps she could push Trump toward finding solutions for climate change, police brutality and systematic racism, the disappearing protection of women's rights and Roe v. Wade (which Trump has talked about overturning if he was able to change the demographic of the Supreme Court), immigration, income inequality exacerbated by Trump's tax plan, and health care. Of course, those are just a few suggestions.
And maybe Kardashian is working her way up to that. She recently glamorized her meeting with Trump on Kimmel, saying, she was "starstruck by the Oval Office." "The first thing I say in our meeting, I say, 'Holy s— we're in the f—ing Oval Office,'" she recalled. "That's what I said to him. That was the first thing I said. And I had to take a moment to be like, wait, we're really here… I had no idea what to expect going in there and I was like, 'Look, I'm going to be focused.'" Hopefully that focus will eventually include some of the issues above.