Kim Kardashian Reportedly Isn't Moving to Chicago With Kanye West
She's staying put in L.A.
---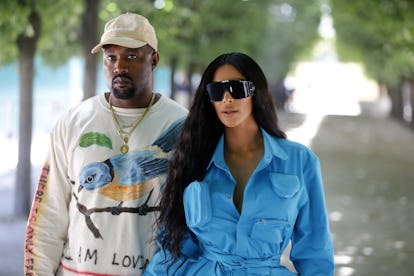 Chesnot/WireImage
Kim Kardashian and Kanye West's first daughter may be named North, but the couple currently have a differing sense of direction. While the rapper announced his plans to "permanently" move back to Chicago, his wife will reportedly be staying put in her native Los Angeles.
According to a new report, Kardashian has no plans to follow her husband to the Midwest. "Kim plans on spending more time in Chicago, but she isn't moving there full-time," a source close to her told People. The reason why Kardashian isn't planning on living with West in the Windy City is that she doesn't think the move would be good for their three children, 5-year-old North, 2-year-old Saint, and 8-month-old Chicago, who was named after the city her dad's hometown.
"She thinks it's best for the kids to continue their schedule in L.A. North is in school, and everything is working great," the source says. "Kim doesn't think a permanent move to Chicago benefits the kids. Also, Kim wants to be around her family as much as possible too. She loves their new house, and it finally feels like a home to her."
The couple aren't planning on separating, despite their impending separate addresses. Kardashian is simply going to wait it out and see if her husband really will "permanently" relocate to Chicago — a strategy that might not work for other marriages but apparently works for theirs. "She will be supportive of Kanye's plans, and they do have a house in Chicago too," the source says, adding that "Kanye has a tendency though to change his mind quickly, so she is just going along with his plans because it makes him happy. Next week, something else might make him happier."
West's plans to live in Chicago surfaced after TMZ posted a video of the artist and designer telling local high schoolers, "I've got to let you all know, that I'm moving back to Chicago and I'm never leaving again." Despite that declaration, though, Kardashian is betting that it's only temporary. "He changes his mind like he changes his underwear," another source told People.
The couple aren't the only ones in the Kardashian-Jenner family planning moves. Apparently, Khloé Kardashian is moving back to Cleveland, this time with her daughter, True, to be closer to her 4-month-old baby's father, Tristan Thompson. "They are all moving back to Cleveland, and it's hard for Khloé," a source told People. "She will really miss Kris [Jenner] and her sisters… It's not going to be easy for her. But she is committed to keeping her family together. And Tristan has shown that he is committed to Khloé, so Khloé will make it work." The next season of Keeping Up With the Kardashians is going to be an interesting one.