Kim Kardashian Puts the Paparazzi on Blast for Reselling Old Photos for Money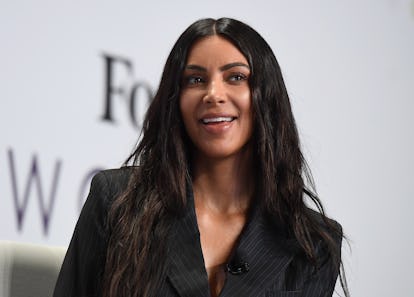 ANGELA WEISS/AFP/Getty Images
As Kim Kardashian knows very well, one should always keep their receipts. They might come in handy for calling out someone lying about your husband or to thwart a paparazzi pretzel scheme.
Kardashian found herself on one end of this odd situation this week, when paparazzi photos of her brother, Rob Kardashian, began rolling out in prominent celebrity and tabloid magazines. The photos themselves are inconspicuous and pretty normal for a celebrity snap: Rob apparently went to a Wetzel's Pretzels to consume some doughy goodness, and was simply seen walking along a California street en route to the store. So, what's the big deal? Here's where things gets weird.
As Buzzfeed points out, this is the "first time" Rob has been seen in public in weeks, following the aftermath of his custody battle with ex-fiancée Blac Chyna. An economic translation: Whichever paparazzo snaps him first, ideally looking sad and depressed, was bound to get a decent payday. However, the photos in question weren't actually new, and Kim uncovered the paparazzo's attempt at a quick cash grab.
"Wait I just saw pics of Rob online & called him to tell him I'm annoyed he didn't bring me back any Wetzels Pretzels from the mall…." Kim tweeted on Wednesday night. "Butttt the pics are from Father's Day at Disneyland & the pap agency are reselling them as if they're new & made up the location, how shady! … Yeah SUPER SHADY."
Going one step further, Kim even shared a photo of Rob and his daughter, Dream, at Disneyland the same day in June that the paparazzi photo was initially taken: "This is the same day back in June," she tweeted. As further evidence, Rob also previously posted about the family day-trip on Instagram, thanking the resort for the "best" first Father's Day he could've asked for.
Say what you want about the Kardashian family, but you sure don't want to mess with them and their pretzels.
Related: Pamela Anderson Wrote a Letter to Kim Kardashian Asking Her to Go Fur-Free
Kim Kardashian and Kendall Jenner at the Met Gala: See the Family's Style Evolution On the Red Carpet
Kim Kardashian and Kanye West, both in Givenchy, arrive to the Metropolitan Museum of Art Costume Institute Gala, Punk: Chaos to Couture, held at the Metropolitan Museum of Art on May 6th, 2013.

Getty
Kim Kardashian arrives to the Metropolitan Museum of Art Costume Institute Gala, Punk: Chaos to Couture, held at the Metropolitan Museum of Art on May 6th, 2013.

Getty
Kim Kardashian, wearing Lanvin, arrives to the Metropolitan Museum of Art Costume Institute Gala, Charles James: Beyond Fashion, held at the Metropolitan Museum of Art on May 5th, 2014.

Getty
Kim Kardashian, wearing Lanvin, arrives to the Metropolitan Museum of Art Costume Institute Gala, Charles James: Beyond Fashion, held at the Metropolitan Museum of Art on May 5th, 2014.

Getty
Kendall Jenner, in Topshop, arrives to the Metropolitan Museum of Art Costume Institute Gala, Charles James: Beyond Fashion, held at the Metropolitan Museum of Art on May 5th, 2014.

Getty
Kendall Jenner, in Topshop, arrives to the Metropolitan Museum of Art Costume Institute Gala, Charles James: Beyond Fashion, held at the Metropolitan Museum of Art on May 5th, 2014.

Getty
Kim Kardashian and Kanye West, both in Roberto Cavalli, arrive to the Metropolitan Museum of Art Costume Institute Gala, China: Through The Looking Glass, held at the Metropolitan Museum of Art on May 4th, 2015.

Getty
Kim Kardashian, in Roberto Cavalli, arrives to the Metropolitan Museum of Art Costume Institute Gala, China: Through The Looking Glass, held at the Metropolitan Museum of Art on May 4th, 2015.

Getty
Kendall Jenner, in Calvin Klein, arrives to the Metropolitan Museum of Art Costume Institute Gala, China: Through The Looking Glass, held at the Metropolitan Museum of Art on May 4th, 2015.

Getty
Kendall Jenner, in Calvin Klein, arrives to the Metropolitan Museum of Art Costume Institute Gala, China: Through The Looking Glass, held at the Metropolitan Museum of Art on May 4th, 2015.

Getty
Kris Jenner, in Balmain, arrives to the Metropolitan Museum of Art Costume Institute Gala, China: Through The Looking Glass, held at the Metropolitan Museum of Art on May 4th, 2015.

Getty
Kris Jenner, in Balmain, arrives to the Metropolitan Museum of Art Costume Institute Gala, China: Through The Looking Glass, held at the Metropolitan Museum of Art on May 4th, 2015.

Getty
Kim Kardashian and Kanye West, both in Balmain, arrive to the Metropolitan Museum of Art Costume Institute Gala, Manus x Machina: Fashion in an Age of Technology, held at the Metropolitan Museum of Art on May 2nd, 2016.

Getty
Kim Kardashian, in Balmain, arrives to the Metropolitan Museum of Art Costume Institute Gala, Manus x Machina: Fashion in an Age of Technology, held at the Metropolitan Museum of Art on May 2nd, 2016.

Getty
Kendall Jenner, in Ateiler Versace, arrives to the Metropolitan Museum of Art Costume Institute Gala, Manus x Machina: Fashion in an Age of Technology, held at the Metropolitan Museum of Art on May 2nd, 2016.

Getty
Kendall Jenner, in Ateiler Versace, arrives to the Metropolitan Museum of Art Costume Institute Gala, Manus x Machina: Fashion in an Age of Technology, held at the Metropolitan Museum of Art on May 2nd, 2016.

Getty
Kris Jenner and Corey Gamble, both in Balmain, arrive to the Metropolitan Museum of Art Costume Institute Gala, Manus x Machina: Fashion in an Age of Technology, held at the Metropolitan Museum of Art on May 2nd, 2016.

Getty
Kris Jenner, in Balmain, arrives to the Metropolitan Museum of Art Costume Institute Gala, Manus x Machina: Fashion in an Age of Technology, held at the Metropolitan Museum of Art on May 2nd, 2016.

Getty
Kylie Jenner, in Balmain, arrives to the Metropolitan Museum of Art Costume Institute Gala, Manus x Machina: Fashion in an Age of Technology, held at the Metropolitan Museum of Art on May 2nd, 2016.

Getty
Kylie Jenner, in Balmain, arrives to the Metropolitan Museum of Art Costume Institute Gala, Manus x Machina: Fashion in an Age of Technology, held at the Metropolitan Museum of Art on May 2nd, 2016.

Getty
Kim Kardashian attends the Rei Kawakubo/Comme des Garcons: Art Of The In-Between Costume Institute Gala at Metropolitan Museum of Art on May 1, 2017 in New York City.

Venturelli
Kim Kardashian is seen at the 'Rei Kawakubo/Comme des Garcons: Art Of The In-Between' Costume Institute Gala at Metropolitan Museum of Art on May 1, 2017 in New York City.

Gilbert Carrasquillo
Kendall Jenner attends the 'Rei Kawakubo/Comme des Garcons: Art Of The In-Between' Costume Institute Gala at Metropolitan Museum of Art on May 1, 2017 in New York City.

George Pimentel
Kendall Jenner attends 'Rei Kawakubo/Comme des Garçons:Art of the In-Between' Costume Institute Gala at Metropolitan Museum of Art on May 1, 2017 in New York City.

Jackson Lee
Kylie Jenner attends the "Rei Kawakubo/Comme des Garcons: Art Of The In-Between" Costume Institute Gala at the Metropolitan Museum of Art on May 1, 2017 in New York City.

Karwai Tang
Kylie Jenner attends the "Rei Kawakubo/Comme des Garcons: Art Of The In-Between" Costume Institute Gala at the Metropolitan Museum of Art on May 1, 2017 in New York City.

Gilbert Carrasquillo
Here Are the Real Heroes of the Kardashian Jenner Family Empire: