Pamela Anderson Wrote a Letter to Kim Kardashian Asking Her to Go Fur-Free
"Please do the right thing."
---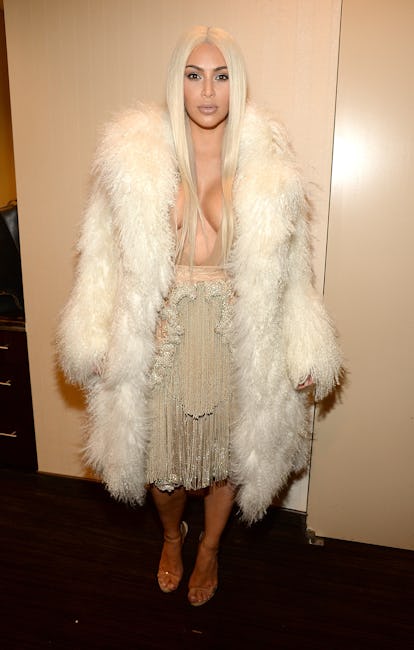 Kevin Mazur/Getty Images for Yeezy Season 3
Kim Kardashian and Pamela Anderson have more than a few things in common, namely how the former got famous. And, just last month, the reality TV star dressed up in an ode to the Baywatch star's unforgettable outfit she wore to the 1999 MTV Video Music Awards — an oversized pink hat and white corset — for CR Fashion Book. There is one major difference however: the stars have differed on is their stance on wearing fur. In a letter posted to her website, Anderson highlights it and implores Kardashian to go fur-free.
"Dear Kim, It was lovely seeing you at New York Fashion Week," the letter begins, referencing the Vivienne Westwood and Juergen Teller exhibition where the pair posed for photos together with the famed photographer. "I've had the pleasure of getting to know you over the years, and I can tell you're a good person with a big, beautiful heart. I'm writing to ask you to extend your compassion to real fashion victims—the animals who are violently killed in the fur trade—by swearing off fur this winter." Anderson then proceeds to explain the gruesome conditions of one fur farm PETA exposed. "You know I love you, and you can be a hero for animals as well as a great example to all your beautiful followers by swearing off fur," Anderson writes. "Please do the right thing. You'd be praised all over the world, including by my close friends at PETA."
While Kim has yet to respond, PETA is no doubt a topic that's been brought up in her house before, as, back in 2008, her sister Khloe Kardashian famously posed nude for the organization in an ad that read "Fur? I'd Rather Go Naked." At the time, though, Khloe commented on how unphased Kim was by the campaign, telling E! Online via People, "Kim wore fur last night. I told her you cannot wear fur. It's embarrassing."
Indeed, in the same photoshoot where Kim dressed up in an updated take on Anderson's VMAs look, she also wore fur in another look that channeled Lil Kim's outfit for the 1999 Tommy Hilfiger "Rock Style" Exhibition, which she shared on her Instagram.
Plus, the next week she shared a behind-the-scenes picture from another shoot she wore fur for which took place several years ago.
You can read Anderson's full letter here.
Related: Melania Trump No Longer Wears Fur
Dylan Jagger Lee Would Prefer Not to Sleep Alone: