Kim Kardashian West Met Alice Marie Johnson for the First Time Since Her Release
Kardashian West previously lobbied Trump to pardon her in a much-publicized meeting.
---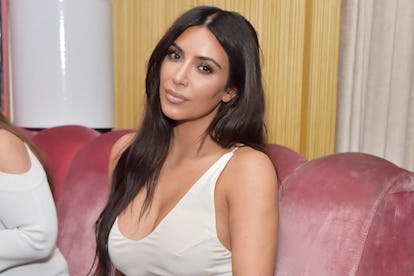 Stefanie Keenan/Getty Images
Kim Kardashian West and Alice Marie Johnson, the 63-year-old woman she lobbied President Donald Trump to pardon, finally met for the first time on Wednesday, a week after the formerly incarcerated great grandmother's release, People reported. During their meeting, the two appeared on Kardashian West's Snapchat before sitting down with Hoda Kotb for a joint interview on Today.
"Hey everybody, Alice has never used a Snapchat filter before so I'm showing her the ropes," Kardashian West says in a series of short videos while the pair try on different Snapchat filters. "This is the cutest, it's all the hearts on us. Love you, Alice!" "Love you, Kim," Johnson replies, laughing.
In the interview with Today, Johnson said she did not know who Kardashian West was before the reality TV star began campaigning for her freedom. "I did not know her name. I didn't know Kim. As soon as I found out who she was, I started getting every magazine I could find," she told Kotb, according to Today. "I started reading everything that I could about her. And everyone was amazed. And I was amazed, too." Meanwhile, Kardashian West said she took up Johnson's cause last October after sharing her story on Twitter. "At first I just retweeted it, and then I sent it to my attorney," Kardashian West said. "I asked her, 'Is there anything we can do? Can we hire different attorneys? Like, what are the options here?'"
"It became this mission that I just didn't want to give up," she added. "I mean, I think to some people it might seem like, 'Okay, Kim made a phone call to the president, showed up.' We had been in talks and working on this for seven months. And it wasn't an instant thing. It was a lot of work."
Kardashian West revealed that she first called First Daughter Ivanka Trump, and this call eventually led to the much-publicized meeting on May 30 with the president. There, they discussed prison reform and the case of Johnson, who was given a life sentence for a first-time, nonviolent drug offense, People reported. A week after the meeting, Mic reported, Trump granted Johnson clemency, nearly 22 years after she was first incarcerated.
"I believe [Kim] said, 'You can go home. You can go home now, are you ready?'" Johnson recalled in the interview. "When she said that, I went into full-fledged Pentecostal holy dance. I started screaming and jumping."
Elsewhere in the interview, Johnson vowed to advocate for other nonviolent, first-time offenders, according to Today. "I plan on continuing to magnify this issue," she said. "And I can't stop. I can't stop. I've lived it. I've walked with them. I have cried with them. My life is completely intertwined forever with those who were left behind. So it can't end here."
Kardashian West said she would continue doing so as well. "People have been asking me are you getting into politics? Like no. I'm still doing me. But I enjoy this," she told Today. "This has fulfilled my heart and so since I feel so fulfilled, why would I stop that?"
Reading: A Recap of Everything That Went Down During the Kardashians' Family Feud Debut