Kim Kardashian West Posts Yet Another Nude on Instagram
Has she set a new record this week?
---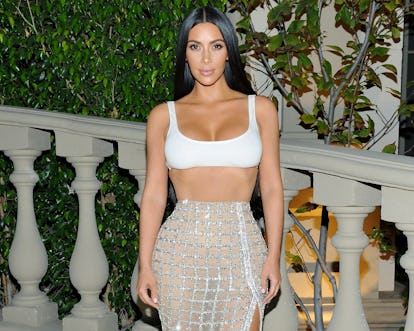 Donato Sardella/Getty Images
Another day, another fully nude shot of Kim Kardashian West on Instagram. Such is the norm this week, as Kimmy has flooded our feeds with tasteful nudes in honor of the upcoming launch of her latest fragrance, KKW Body. In the latest shot, uploaded on Thursday afternoon, a bare Kim K is seen stretched out on a table, looking like the epitome of an artist's muse.
Kardashian West has been teasing her newest KKW Beauty product all week, after revealing in an interview with The Business of Fashion that her new scent would come in a bottle that was shaped like her body. Apparently, she was being very literal because on Wednesday, she hit the 'gram with naked photos of herself covered in plaster while a mold was made of her curves. Since then, she's continued to share increasingly risqué images of herself, featuring strategically placed hands and blur effects over the bits that would get her kicked off of Instagram.
Along with all of the nudity, Kardashian West's Insta has also provided some actual insight into what we can expect from KKW Body. Earlier this week, she captioned one photo of her artfully covered lady parts with a list of the notes present in the fragrance, which include top notes of Vert de Bergamot, Vert de Mandarin, Baies Rose Orpur, Peach Nectar; Middle notes of Ylang Ylang Moheli Orpur, Rose Turkey Absolute, and Jasmine Sambac Absolute; and base notes of Vetiver Haiti Orpur, Sandalwood Australia Orpur, Golden Amber, and Musk. She also revealed the fragrance's bottle and packaging on her Instagram Story. The bottle is, in fact, shaped exactly like Kim's torso (that mold was no joke, apparently), and its opacity will likely help keep the scent intact over long periods of time by protecting it from the sun. It also comes in a high-tech-looking box that will make you feel like you're unwrapping a present when you open it.
So, in case you haven't gotten enough of Kim Kardashian West's naked body on your Instagram feed, now you can have it on your perfume shelf, too.