Kim Kardashian Debuts Trailer For Her New Prank Show "You Kiddin' Me?!"
You Kiddin' Me?! premieres September 22 on Facebook Watch.
---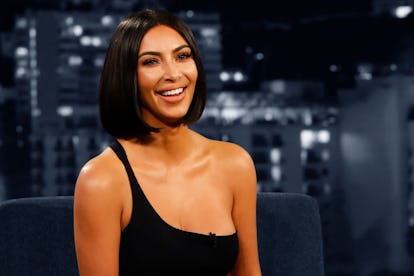 Composite. Randy Holmes/Getty Images
Move over Ashton Kutcher, because Kim Kardashian's is apparently bringing back the celebrity prank show. In the brand new trailer for You Kiddin' Me?!, we see Kim, Kendall Jenner, Kourtney Kardashian, and Kris Jenner pranking each other in the most epic ways possible.
One of those pranks involves an art show in which Kris is the featured artist. The only problem: She has no idea that she's the main attraction, much to the amusement of her daughters, who are in a control room somewhere orchestrating the entire charade from a distance.
The basic premise of the show is that parents must do everything their children tell them via an earpiece while in front of an unsuspecting public, even if it means embarrassing themselves. According to People, the series will premiere on Saturday, September 22, at 3 p.m. ET on Facebook Watch. From there, new episodes will drop every subsequent Saturday on the platform. People also revealed that along with the Kardashian-Jenners, the show will also feature the families of some of their famous friends, including Zoe Saldana, T.I., Lisa Rinna, Gabriel Iglesias, and WWE's Daniel Bryan and the Bella Twins.
"I know from firsthand experience that children are wise beyond their years and can come up with the craziest things, so imagine how funny it will be to see them make all the decisions," Kardashian West said in a statement obtained by Deadline when the show was announced back in March. "I'm delighted to be working with the Lionsgate and Facebook teams on this exciting new venture and invite viewers to witness their favorite celebrity parents get pranked when we launch the series on Facebook Watch," she added.
Will the show become a sensation in the same way that Punk'd did in the early 2000s? One thing we've learned over the years is to never bet against the Kardashians. Watch the You Kiddin' Me?! trailer below.