Kim Kardashian Can No Longer Take Selfies, Per Doctor's Orders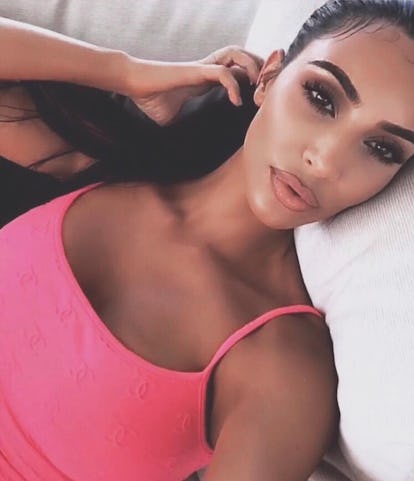 What does it mean when the very thing you've become defined by is no longer a part of you? That existential moment is being felt right now by Kim Kardashian, a selfie queen who has now been banned from taking selfies.
After she injured her wrist, Kardashian was given doctor's orders to lay off of it — and, with that, stop taking selfies. "My hand hurts. I forgot my brace," Kim tells Khloé Kardashian and Kris Jenner in a new clip of Keeping Up With the Kardashians posted to E! News. "The doctor says I can only hold my phone like this."
But Kardashian, whose fame and place in pop culture can be directly correlated to her selfie-taking ability — which landed her a coffee table book — has a plan. Instead of going against doctor's orders, Kardashian is turning to her assistant Paxy for her photo needs. "So, I'm having Paxy take my pics so I can rest my hands," she explains to her sister and mother.
"It'll protect Kim's hand without missing a beat on social media," Kris Jenner says, who gets the idea to do the same. "I'm definitely gonna poach Paxy to be my selfie assistant."
Before questioning what kind of world we live in where Kim Kardashian can no longer take selfies, there is solace: Kardashian's selfie hiatus is only temporary. Plus, the last time she pledged not to take selfies, she backtracked within less than a week. Earlier this summer, in June, Kardashian revealed, "I don't take selfies anymore. I don't really like them anymore. I used to spend too much of my time taking selfies." The reason? The reality TV star wanted to be more grounded in reality. "I just would like to live in real time a little more," she explained. "I don't mind pictures, but I'm just not on my phone the way I used to be." Four days later, though, Kardashian shared a thirst trap photo on Instagram of her on the floor of her closet. Luckily for Kardashian, this time her selfie hiatus means that she will finally get less time on her phone — and more pictures in her photo roll.
9 Times the Kardashians Wore Vintage Clothes, From Gucci to Versace
Kylie Jenner wore a shortened vintage Gucci dress for her 21st birthday party in Las Vegas in August 2018. The original Tom Ford for Gucci dress appeared on the spring/summer 2000 runway.

Photo by @kyliejenner.
At her family's annual holiday gathering in December 2017, Kim Kardashian wore a vintage Christian Dior dress, from the John Galliano for Dior Fall/Winter 1997 ready-to-wear collection.

@ryanseacrest/Getty Images
On a trip to Japan in March 2018, Kourtney Kardashian wore a vintage denim two-piece from the Alexander McQueen "The Eye" Spring/Summer 2000 collection.

Photo by @kourtneykardash.
Kim Kardashian wore a gold vintage Versace maxidress to the premiere of The Promise in April 2017.

Tara Ziemba
Kendall Jenner wore a vintage Chanel 1990s tweed suit during an appearance on The Tonight Show Starring Jimmy Fallon in February 2017.

Theo Wargo/Getty Images
In May 2018—just days after stunning in a vintage black Versace minidress for a 2018 Met Gala afterparty—Kim Kardashian wore another vintage gold Versace gown from the Spring 1995 collection to a dinner for Business of Fashion in New York.

Condé Nast Archives; Dimitrios Kambouris/Getty Images for the Business of Fashion
Kourtney Kardashian tossed on a vintage button-up Chanel blouse during her Italian summer getaway in 2018.

Photo by @kourtneykardash.
Kim Kardashian showed up to the 2010 White House Correspondents Dinner wearing a vintage Valentino gown that used to belong to her mother, Kris Jenner.

MANDEL NGAN/Getty Images
Kim Kardashian opted for a vintage gold (there's a pattern) Balmain dress with a matching Judith Leiber phone-shaped clutch in July 2018 at Pusha T's wedding.

Photo by @kimkardashian.