Kim Kardashian Got Versace to Completely Re-create Her Favorite 1995 Dress, and Now We Believe in Fashion Again
The '90s are back, and Kim K. and Madge know exactly which parts of the decade to revisit.
---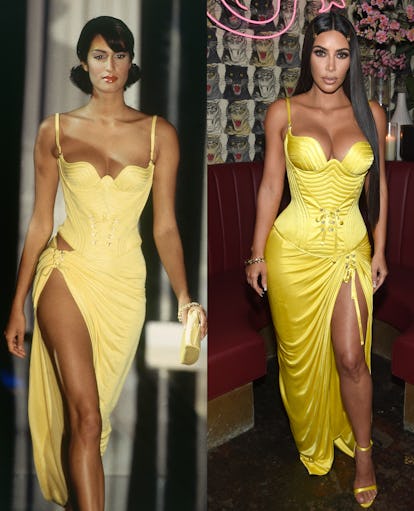 Condé Nast Archives; Dimitrios Kambouris/Getty Images for the Business of Fashion
About 48 hours ago, Kim Kardashian stepped out onto the red carpet of the Catholicism-themed Met Gala in an ultra-tight golden Versace gown accented with a couple of crosses. The gown was, of course, custom; what's more, it was (appropriately enough) a resurrection, inspired by "the iconic gold chain-mail and cross designs from the 1997 Versace couture show."
Fast-forward to about 24 hours later, and Kardashian, whom Donatella Versace has now taken to calling "the golden goddess," has again resurrected the '90s. Indeed, this time, at a dinner for the Business of Fashion on Tuesday night, she went even further in doing so, since the ateliers didn't just take inspiration from the dress that the model Yasmeen Ghauri paraded down Gianni Versace's runway in 1994, debuting what would become "one of [Kardashian's] all-time favorite looks." Instead, they full-on re-created it, right down to its wavy corset, bikini-line-level slit, simple straps, ribboned bodice, and, of course, canary yellow hue.
Now, cut to the future: This morning, the Council of Fashion Designers of America, aka the CFDA, announced plans to dedicate its first-ever Influencer Award to Kardashian at its upcoming awards ceremony, essentially the Oscars of fashion. And while pretty much anyone in or out of fashion could tell you that the '90s are currently back, it's a mark of Kardashian's true fashion cred that in two days alone, she's unearthed some of the best of the decade's bunch.
Aside from it being smack-dab in the middle of the '90s, when Gianni was still at the helm of the house (and the decade's supers), it's no wonder that spring 1995 in particular would be one of Kardashian's favorite collections; it was essentially an homage to corsetry, which we all know Kim's a fan of, thanks to her constant "waist trainer" spon con. There's also the fact, though, that well before MAGA, Versace's stated intent with the collection was "I want to make people believe in fashion again."
There's no better time, then, to look back at such a perfect slice of the Versace-filled '90s—which saw even Ivanka Trump look pure—than now. Even Madonna agrees: Though hers was vintage, on Monday, after the Met Gala, Madge also brought back some 1995 Versace, complementing Kardashian's gold in a silver slip dress. Below, a trip down memory lane. You can believe in fashion again.
Related: Versace Reunited Your Favorite '90s Supermodels for a Bold Tribute to Gianni Versace
Kim Kardashian and Kendall Jenner at the Met Gala: See the Family's Style Evolution On the Red Carpet
Kim Kardashian and Kanye West, both in Givenchy, arrive to the Metropolitan Museum of Art Costume Institute Gala, Punk: Chaos to Couture, held at the Metropolitan Museum of Art on May 6th, 2013.

Getty
Kim Kardashian arrives to the Metropolitan Museum of Art Costume Institute Gala, Punk: Chaos to Couture, held at the Metropolitan Museum of Art on May 6th, 2013.

Getty
Kim Kardashian, wearing Lanvin, arrives to the Metropolitan Museum of Art Costume Institute Gala, Charles James: Beyond Fashion, held at the Metropolitan Museum of Art on May 5th, 2014.

Getty
Kim Kardashian, wearing Lanvin, arrives to the Metropolitan Museum of Art Costume Institute Gala, Charles James: Beyond Fashion, held at the Metropolitan Museum of Art on May 5th, 2014.

Getty
Kendall Jenner, in Topshop, arrives to the Metropolitan Museum of Art Costume Institute Gala, Charles James: Beyond Fashion, held at the Metropolitan Museum of Art on May 5th, 2014.

Getty
Kendall Jenner, in Topshop, arrives to the Metropolitan Museum of Art Costume Institute Gala, Charles James: Beyond Fashion, held at the Metropolitan Museum of Art on May 5th, 2014.

Getty
Kim Kardashian and Kanye West, both in Roberto Cavalli, arrive to the Metropolitan Museum of Art Costume Institute Gala, China: Through The Looking Glass, held at the Metropolitan Museum of Art on May 4th, 2015.

Getty
Kim Kardashian, in Roberto Cavalli, arrives to the Metropolitan Museum of Art Costume Institute Gala, China: Through The Looking Glass, held at the Metropolitan Museum of Art on May 4th, 2015.

Getty
Kendall Jenner, in Calvin Klein, arrives to the Metropolitan Museum of Art Costume Institute Gala, China: Through The Looking Glass, held at the Metropolitan Museum of Art on May 4th, 2015.

Getty
Kendall Jenner, in Calvin Klein, arrives to the Metropolitan Museum of Art Costume Institute Gala, China: Through The Looking Glass, held at the Metropolitan Museum of Art on May 4th, 2015.

Getty
Kris Jenner, in Balmain, arrives to the Metropolitan Museum of Art Costume Institute Gala, China: Through The Looking Glass, held at the Metropolitan Museum of Art on May 4th, 2015.

Getty
Kris Jenner, in Balmain, arrives to the Metropolitan Museum of Art Costume Institute Gala, China: Through The Looking Glass, held at the Metropolitan Museum of Art on May 4th, 2015.

Getty
Kim Kardashian and Kanye West, both in Balmain, arrive to the Metropolitan Museum of Art Costume Institute Gala, Manus x Machina: Fashion in an Age of Technology, held at the Metropolitan Museum of Art on May 2nd, 2016.

Getty
Kim Kardashian, in Balmain, arrives to the Metropolitan Museum of Art Costume Institute Gala, Manus x Machina: Fashion in an Age of Technology, held at the Metropolitan Museum of Art on May 2nd, 2016.

Getty
Kendall Jenner, in Ateiler Versace, arrives to the Metropolitan Museum of Art Costume Institute Gala, Manus x Machina: Fashion in an Age of Technology, held at the Metropolitan Museum of Art on May 2nd, 2016.

Getty
Kendall Jenner, in Ateiler Versace, arrives to the Metropolitan Museum of Art Costume Institute Gala, Manus x Machina: Fashion in an Age of Technology, held at the Metropolitan Museum of Art on May 2nd, 2016.

Getty
Kris Jenner and Corey Gamble, both in Balmain, arrive to the Metropolitan Museum of Art Costume Institute Gala, Manus x Machina: Fashion in an Age of Technology, held at the Metropolitan Museum of Art on May 2nd, 2016.

Getty
Kris Jenner, in Balmain, arrives to the Metropolitan Museum of Art Costume Institute Gala, Manus x Machina: Fashion in an Age of Technology, held at the Metropolitan Museum of Art on May 2nd, 2016.

Getty
Kylie Jenner, in Balmain, arrives to the Metropolitan Museum of Art Costume Institute Gala, Manus x Machina: Fashion in an Age of Technology, held at the Metropolitan Museum of Art on May 2nd, 2016.

Getty
Kylie Jenner, in Balmain, arrives to the Metropolitan Museum of Art Costume Institute Gala, Manus x Machina: Fashion in an Age of Technology, held at the Metropolitan Museum of Art on May 2nd, 2016.

Getty
Kim Kardashian attends the Rei Kawakubo/Comme des Garcons: Art Of The In-Between Costume Institute Gala at Metropolitan Museum of Art on May 1, 2017 in New York City.

Venturelli
Kim Kardashian is seen at the 'Rei Kawakubo/Comme des Garcons: Art Of The In-Between' Costume Institute Gala at Metropolitan Museum of Art on May 1, 2017 in New York City.

Gilbert Carrasquillo
Kendall Jenner attends the 'Rei Kawakubo/Comme des Garcons: Art Of The In-Between' Costume Institute Gala at Metropolitan Museum of Art on May 1, 2017 in New York City.

George Pimentel
Kendall Jenner attends 'Rei Kawakubo/Comme des Garçons:Art of the In-Between' Costume Institute Gala at Metropolitan Museum of Art on May 1, 2017 in New York City.

Jackson Lee
Kylie Jenner attends the "Rei Kawakubo/Comme des Garcons: Art Of The In-Between" Costume Institute Gala at the Metropolitan Museum of Art on May 1, 2017 in New York City.

Karwai Tang
Kylie Jenner attends the "Rei Kawakubo/Comme des Garcons: Art Of The In-Between" Costume Institute Gala at the Metropolitan Museum of Art on May 1, 2017 in New York City.

Gilbert Carrasquillo