Kim Kardashian to Receive "Influencer" Award at 2018 CFDA Awards
The first ever recipient of the honor.
---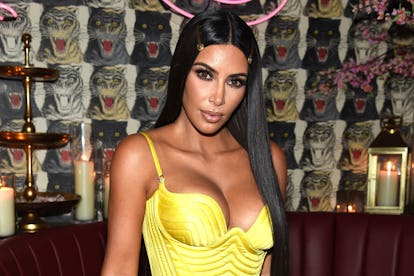 Dimitrios Kambouris/Getty Images
Kim Kardashian West is finally winning the awards that there's no doubt she deserves to win. The 36-year-old reality star/beauty mogul/app whiz will soon win an award for her ability to sell basically any product on social media and influencing the fashion world in uncountable ways. The Council of Fashion Designers of America, Inc. (CFDA) announced Wednesday that it would honor KKW as the first-ever recipient of the "Influencer Award" at this year's ceremony, according to Women's Wear Daily.
President and chief executive officer of the CFDA, Steven Kolb, said it was Tommy Hilfiger's idea to create a special honor for Kim. "Tommy Hilfiger said, 'If you think about influencers and how they've changed our industry, I think we should acknowledge that,'" Kolb told WWD. "[The board] all agreed that Kim was someone who has really impacted the industry and has changed the way brands are presented. She's a friend of a lot of the designers and has had great influence on fashion globally." For her part, Kim is just as excited about the honor. She retweeted the announcement and added, "OMG OMG OMG ???."
Donatella Versace, who dressed Kardashian and many other celebrities for the 2018 Met Gala, will receive a lifetime achievement award at the CFDA Awards. Other favorites, like Virgil Abloh, Ashley and Mary-Kate Olsen, and Tom Ford are also nominated, while Carolina Herrera and British Vogue editor Edward Enninful will receive special awards. The CFDA Awards will take place on June 4 at the Brooklyn Museum and will be hosted by Issa Rae.
Besides breaking the Internet almost every time she shares a photo or tweet, Kim has caused mass hysteria over multiple product releases from her KKW Beauty and KKW Fragrance collections in the past year. For her recent launch, KKW Body, she posted her most nude photos yet and created the bottle in the exact shape of her body. And who can forget the Kimoji Valentine's Day launch, which included a huge candy heart, which lucky celebrities were able to smash on camera before enjoying the scents inside. Not to mention, Kim also sent candy hearts to her "haters" just to prove how successful she really is at A+ grassroots marketing. Kim's influencer magic even went viral for the Yeezy Season 6 campaign, which featured Paris Hilton and other models dressed up as Kim clones. Not bad for "a girl with no talent."
Related: Kim Kardashian's Latest Instagram Nostalgia Trip Featured a Surprise Cameo From Jake Gyllenhaal
Kim Kardashian and Kendall Jenner at the Met Gala: See the Family's Style Evolution On the Red Carpet
Kim Kardashian and Kanye West, both in Givenchy, arrive to the Metropolitan Museum of Art Costume Institute Gala, Punk: Chaos to Couture, held at the Metropolitan Museum of Art on May 6th, 2013.

Getty
Kim Kardashian arrives to the Metropolitan Museum of Art Costume Institute Gala, Punk: Chaos to Couture, held at the Metropolitan Museum of Art on May 6th, 2013.

Getty
Kim Kardashian, wearing Lanvin, arrives to the Metropolitan Museum of Art Costume Institute Gala, Charles James: Beyond Fashion, held at the Metropolitan Museum of Art on May 5th, 2014.

Getty
Kim Kardashian, wearing Lanvin, arrives to the Metropolitan Museum of Art Costume Institute Gala, Charles James: Beyond Fashion, held at the Metropolitan Museum of Art on May 5th, 2014.

Getty
Kendall Jenner, in Topshop, arrives to the Metropolitan Museum of Art Costume Institute Gala, Charles James: Beyond Fashion, held at the Metropolitan Museum of Art on May 5th, 2014.

Getty
Kendall Jenner, in Topshop, arrives to the Metropolitan Museum of Art Costume Institute Gala, Charles James: Beyond Fashion, held at the Metropolitan Museum of Art on May 5th, 2014.

Getty
Kim Kardashian and Kanye West, both in Roberto Cavalli, arrive to the Metropolitan Museum of Art Costume Institute Gala, China: Through The Looking Glass, held at the Metropolitan Museum of Art on May 4th, 2015.

Getty
Kim Kardashian, in Roberto Cavalli, arrives to the Metropolitan Museum of Art Costume Institute Gala, China: Through The Looking Glass, held at the Metropolitan Museum of Art on May 4th, 2015.

Getty
Kendall Jenner, in Calvin Klein, arrives to the Metropolitan Museum of Art Costume Institute Gala, China: Through The Looking Glass, held at the Metropolitan Museum of Art on May 4th, 2015.

Getty
Kendall Jenner, in Calvin Klein, arrives to the Metropolitan Museum of Art Costume Institute Gala, China: Through The Looking Glass, held at the Metropolitan Museum of Art on May 4th, 2015.

Getty
Kris Jenner, in Balmain, arrives to the Metropolitan Museum of Art Costume Institute Gala, China: Through The Looking Glass, held at the Metropolitan Museum of Art on May 4th, 2015.

Getty
Kris Jenner, in Balmain, arrives to the Metropolitan Museum of Art Costume Institute Gala, China: Through The Looking Glass, held at the Metropolitan Museum of Art on May 4th, 2015.

Getty
Kim Kardashian and Kanye West, both in Balmain, arrive to the Metropolitan Museum of Art Costume Institute Gala, Manus x Machina: Fashion in an Age of Technology, held at the Metropolitan Museum of Art on May 2nd, 2016.

Getty
Kim Kardashian, in Balmain, arrives to the Metropolitan Museum of Art Costume Institute Gala, Manus x Machina: Fashion in an Age of Technology, held at the Metropolitan Museum of Art on May 2nd, 2016.

Getty
Kendall Jenner, in Ateiler Versace, arrives to the Metropolitan Museum of Art Costume Institute Gala, Manus x Machina: Fashion in an Age of Technology, held at the Metropolitan Museum of Art on May 2nd, 2016.

Getty
Kendall Jenner, in Ateiler Versace, arrives to the Metropolitan Museum of Art Costume Institute Gala, Manus x Machina: Fashion in an Age of Technology, held at the Metropolitan Museum of Art on May 2nd, 2016.

Getty
Kris Jenner and Corey Gamble, both in Balmain, arrive to the Metropolitan Museum of Art Costume Institute Gala, Manus x Machina: Fashion in an Age of Technology, held at the Metropolitan Museum of Art on May 2nd, 2016.

Getty
Kris Jenner, in Balmain, arrives to the Metropolitan Museum of Art Costume Institute Gala, Manus x Machina: Fashion in an Age of Technology, held at the Metropolitan Museum of Art on May 2nd, 2016.

Getty
Kylie Jenner, in Balmain, arrives to the Metropolitan Museum of Art Costume Institute Gala, Manus x Machina: Fashion in an Age of Technology, held at the Metropolitan Museum of Art on May 2nd, 2016.

Getty
Kylie Jenner, in Balmain, arrives to the Metropolitan Museum of Art Costume Institute Gala, Manus x Machina: Fashion in an Age of Technology, held at the Metropolitan Museum of Art on May 2nd, 2016.

Getty
Kim Kardashian attends the Rei Kawakubo/Comme des Garcons: Art Of The In-Between Costume Institute Gala at Metropolitan Museum of Art on May 1, 2017 in New York City.

Venturelli
Kim Kardashian is seen at the 'Rei Kawakubo/Comme des Garcons: Art Of The In-Between' Costume Institute Gala at Metropolitan Museum of Art on May 1, 2017 in New York City.

Gilbert Carrasquillo
Kendall Jenner attends the 'Rei Kawakubo/Comme des Garcons: Art Of The In-Between' Costume Institute Gala at Metropolitan Museum of Art on May 1, 2017 in New York City.

George Pimentel
Kendall Jenner attends 'Rei Kawakubo/Comme des Garçons:Art of the In-Between' Costume Institute Gala at Metropolitan Museum of Art on May 1, 2017 in New York City.

Jackson Lee
Kylie Jenner attends the "Rei Kawakubo/Comme des Garcons: Art Of The In-Between" Costume Institute Gala at the Metropolitan Museum of Art on May 1, 2017 in New York City.

Karwai Tang
Kylie Jenner attends the "Rei Kawakubo/Comme des Garcons: Art Of The In-Between" Costume Institute Gala at the Metropolitan Museum of Art on May 1, 2017 in New York City.

Gilbert Carrasquillo