Kim Kardashian's Latest Instagram Nostalgia Trip Featured a Surprise Cameo From Jake Gyllenhaal
A blast from the past with snaps from Kim's teenage years.
---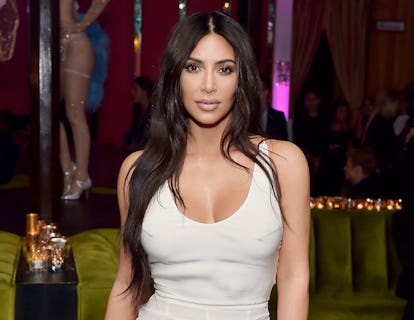 Photo by Stefanie Keenan/Getty Images for Lorraine Schwartz
Everyone loves a good nostalgia trip, especially Kim Kardashian, who blessed us with another blast from the past in her latest Instagram Stories roundup of photos from her teen years.
The journey began with Kardashian showing off her museum-worthy collection of Kanye West's old shutter shades and 808s & Heartbreak merch from the late 2000s, before she eventually moved on to uncovering family photo albums of her parents and grandparents, notes from her sisters about stealing her clothes, her first selfies taken at a young age, and baby photos of Kardashian where she claims she looks like Chicago's twin. Of course, many of the photos are filled with familiar faces, like those of a young Nicole Richie and Sara Foster, alongside snaps of Kourtney, Khloé, and Rob Kardashian in their youth.
Kim's throwback collages are a treasure trove of teen life—bopping to Snoop Dogg's first album on boat excursions, girls' trips to Mexico when they were just 13, and their parents dropping them off at Rite Aid so they can hit up the photo booth. You know, just like any other adolescent growing up in Calabasas would. While rummaging through her old high school yearbooks, Kardashian also mentioned she is gearing up for her 20-year high school reunion with her best friends from the class of 1998.
However, there is one very surprising special guest who made an appearance on Kardashian's Instagram Stories: Jake Gyllenhaal. The two did not go to the same high school (Kardashian attended Marymount High School in Bel Air, while Gyllenhaal graduated from Harvard-Westlake), but at some point in his youth Gyllenhaal must have scored an invite to hang out with Kardashian at one of her birthday parties. Who knew they were ever friends?
Kardashian also tweeted that she was scanning the photos from her albums and would post them soon. Perhaps she'll add them to a new edition of Selfish, or maybe she'll turn them into another book entirely, but one thing is for sure: There needs to be a special episode of the new season of Keeping Up With the Kardashians that involves an investigation of all of the now-famous people that none of us even knew the Kardashians used to be friends with in high school.
Related: Lauren Greenfield Photographed 25 Years of Rich People in America, Starting with 12-Year-Old Kim Kardashian