In Loving Memory of Kim Kardashian's Selfies
A celebration of the end of an art form.
---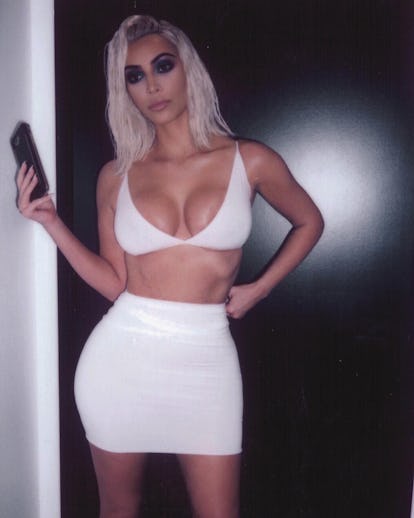 @kimkardashian
Kim Kardashian literally wrote the book on the selfie, so it's only fair that she also decides when it's over. Just after an interview with Sam Rubin of KTLA-TV in L.A. that was later broadcast in the U.K. on ITV's This Morning, a video producer asked the beauty mogul and reality television star to take a selfie—at this point a classic request but one that yielded an atypical response.
"I don't take selfies anymore. I don't really like them anymore," she admitted. "I used to spend too much of my time taking selfies.
"I just would like to live in real time a little more," she continued. "I don't mind pictures, but I'm just not on my phone the way I used to be."
This is not the first time Kardashian has declared the end of the selfie: In a Keeping Up With the Kardashians game of "Would You Rather" last fall, she said she would prefer to never take a selfie again than to never post to Snapchat again. (This, however, might hinder her Snapchatting abilities. Younger sister Kylie might make a different choice, given that her criticism of Snapchat actually caused its stock to plummet.) "[I kind of feel like selfies are kind of a few years ago](https://www.glamour.com/story/kim-kardashian-says-selfies-are-over)," she said in October. Of course, this was a mere hypothetical, and Kardashian has continued taking and posting selfies with willful abandon—until now.
Never mind that just the previous night, Kardashian had posted a lingerie selfie taken inside her closet to her Instagram stories, captioned "packing." If she didn't want to take a selfie, she only had to say so—she didn't have to decide they're entirely over as well. In any case, on the occasion of the death of the selfie, here we look back at a few of Kim Kardashian's finest front-facing camera moments, including selfies, belfies, glam shots, and family photos.
The mirror selfies are instant classics.
Some subtle sponsored content makes it into the mix.
Kim Kardashian loves a selfie from the makeup chair.
There are the belfies, face optional.
The whole Kardashian-West family shows up from time to time.
Rarest of all is the meta-selfie: a selfie-within-a-selfie.
So, a fond farewell to Kim Kardashian's selfies. May they rest in peace.
Related: Kanye West Once Made Kim Kardashian Cry By Throwing Out 250 Pairs of Her Shoes