Kim Sion Broke Into Fashion by Cold Calling Vivienne Westwood
The multi-hyphenate creative shares the story of how she became a photography agent while working in a hair salon and reflects on 2020's silver linings.
Photographs by Jarvis Cocker
---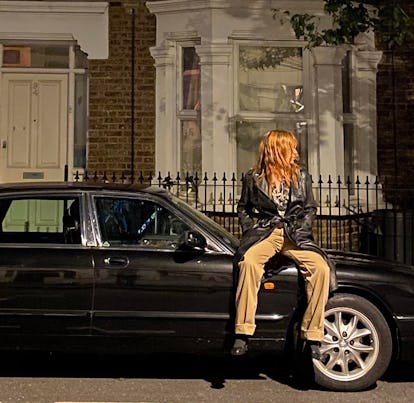 For our annual "The Originals" portfolio, we asked creatives—pioneers in the fields of art, design, fashion, comedy, activism and more—to share their insights on staying true to themselves and pushing the creative envelope in a chaotic year. Read all the Q+As from this year's group here.
Is it true that you started your career as a photography agent while working in a hair salon?
It was a really groovy salon in the day. All of these amazing musicians, like David Bowie, would call to book Keith, one of the hairdressers, because he was also a session musician. I proposed to the owner that I start an agency, looking after hairdressers, from within the salon. He gave me an office in a broom cupboard, with a shelf for my typewriter. It just went from there. Mostly friends of Keith's—first the stylist Joe McKenna and the photographer Ellen Von Unwerth. Then Phil Bicker, who was a big art director at the time, rang me up and said, "Oh, I've just met this amazing young photographer called Mario Sorrenti, and he's a model, but he's started to take pictures, and he's got this box of thumbnail pictures that he took on a modeling assignment. You should see him." And then Kate Moss and Mario came into the office, and I saw this box of pictures. I sent the package to the art director Fabien Baron, and then he rang me back, and he gave Mario the Calvin Klein Obsession campaign. Then Cecilia Dean from Visionaire magazine said, "There's these guys I want you to meet, they've only just started." They came to see me with, like, three pictures on a homemade light box. That was Mert [Alas] and Marcus [Piggott]. I feel so lucky that I was part of so many people's incredible careers. We were such a great family.
You wear so many hats as a gallerist, a curator, a consultant, and an agent. If you had to label yourself, how would you describe who you are and what you do?
It's so weird, isn't it? Creative consultant—I suppose that's what I've always done. When I talk to people and they go, "What do you do?" I go, "Actually, I don't really know what I do, because I do so many things." I've worked with a graphic design company for 25 years. I've been working with MatchesFashion as a consultant. I work with autistic kids. I have a gallery with a partner called Sion and Moore, and my shop, A Bag Full of Kim. I want to be part of everything because it excites me so much visually. I can't stop. It's just in my blood.
What's the most exciting thing you're working on right now?
The thing that has really taken me is the ceramics that I've done over lockdown, because it's never been about my creativity. It's always been about others'—nurturing and helping and brainstorming with other people. Even though that is a creative process, I never, ever thought that I could do anything myself. I remember watching Mo Farah, the runner, in the Olympics, and he made such a big impact on me. I was looking at his body, form, and everything. And I was thinking, it's so crazy, life, because we can do anything if we put our mind to it. And so I thought, I'm going to start being creative. Kim is going to do something for herself. And I started ceramics. That was something that really was so shocking for me, that I could do this thing.
Whom do you consider an original?
That list is endless. I suppose all the people I worked with. And I think my boyfriend [the musician Jarvis Cocker] has impeccable style, and he really teaches me. We've been together 11 years, and he's such an inspiration—the way he looks at things and thinks about things and picks out things. He'll say to me, "Oh, there's an exhibition on shell collectors that's going on outside London. Should we go?" And then I'll come back and I'll be into shells. Also, my daughter, who is a photographer and a painter. I always say that I gave birth to my teacher, because she is just unbelievable.
Growing up, could you have predicted that you would end up where you are today?
No, no. I find it really strange, because I grew up in quite a protected, Jewish family. Even though they were very creative, they had a certain route for me that they wanted me to follow. I was pretty rebellious. I left home at 16, and fashion changed my life. I used to love Vivienne Westwood. And I remember this like yesterday: One day I called her store, which was called Worlds End, on Kings Road. I said, "Hi, can I speak to Vivienne?" She got on the phone, and I said, "I was wondering if there are any job vacancies?" And she said, "Come down to the shop now." I left my desk, I got the bus, and I went to her store, and she gave me a job, then and there. It shows you how crazy different things are now. I'm not that old, by the way, but things have changed.
It sounds like the best education you could have asked for—and so serendipitous!
When I think of where I was brought up and where I am now, sometimes I have to pinch myself. I don't want to sound cheesy, but I suppose it's okay to be grateful. I would never take anything for granted. I have had an incredible life, and I'm really excited to see what the next steps are. I believe that there's definitely something out there that we can't see. We think we see with just our eyes, but I believe there's magic out there. Sometimes it's not about forcing things. Having more time these past few months, I've realized that sometimes you've got to let things flow a bit, to see what you want and appreciate things. We just run around like headless chickens, and sometimes we miss so much. We think the more we do, the more we achieve, but I'm beginning to think differently now. Because the less you do, the more time you have to do it better.