Kit Harington Auditions for Other Parts on Game of Thrones
He's bloody terrible at every other part.
---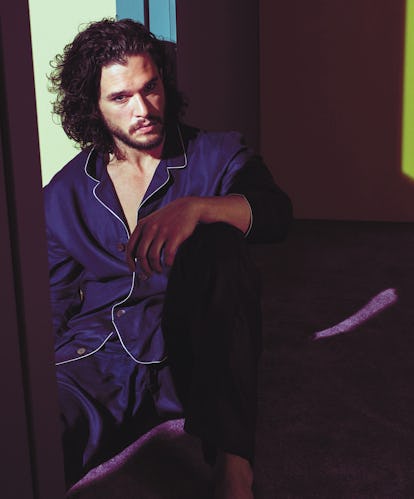 Photographs by Mario Sorrenti, Styled by Edward Enninful
After what feels like ages, winter is finally coming, and the seventh season of Game of Thrones (which will have extra-long episodes) will premiere on Sunday, July 16th on HBO. Ahead of the penultimate season, Kit Harington stopped by Jimmy Kimmel Live! to show off his acting chops as every Westeros character besides his own, Jon Snow, in a "never-before-seen screen test."
And he proved, once and for all, that Jon Snow knows nothing about wearing a wig.
Donning makeshift costumes to resemble Cersei Lannister, Hodor, Arya Stark, a White Walker, and even real-life girlfriend Rose Leslie's former role of Ygritte, Harington bombed his "HBO auditions." (Harington does apparently make a helluva Harry Potter, though.)
"When you play the Game of Thrones, you win or you die. Now if you'll excuse me, I need to have sex with my brother," he says parodying Cersei's notorious on-screen relationships and also perfectly summing up what everyone who doesn't watch the show thinks the basic plot line is.
Ironically, Harington's real audition for Jon Snow was almost just as perilous as his late-night spoof, previously explaining to W how he ended up at his casting with a black eye.
"I'd been in a fight the night before," Harington said. "I'd got in this fight with this guy in McDonald's. I went into the McDonald's with this girl I was sort of dating at the time, and it was late at night, and there was no seats. I asked this guy and the girl he was with if we could sit on the same table, and they said yes."
Rude behavior turned into Harington throwing the first punch—with not great results for his face, but great results for his career.
"I think that man who punched me in the face may have helped me get the job, so thank you," he said.
Related: Kit Harington and Rose Leslie Are Moving in Together at Last
Kit Harington Auditioned for "Game of Thrones" With a Black Eye: