Kit Harington Didn't Know How Game of Thrones Ends Until the Final Season's First Read-Through
He refused to spoil the show's ending for himself until he absolutely had to.
---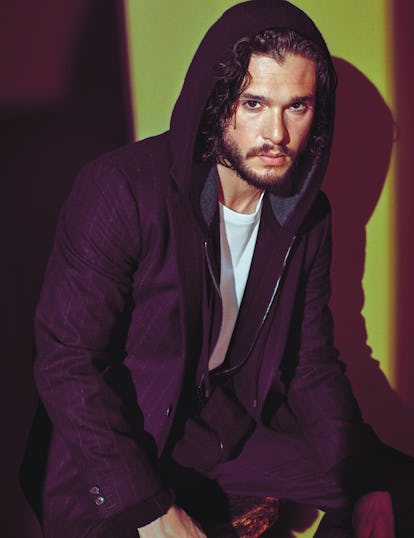 Photographs by Mario Sorrenti, Styled by Edward Enninful.
Kit Harington is totally that guy who covers his ears and hums as loudly as possible when someone starts sharing spoilers for an episode of his favorite show that he hasn't yet seen. In Harington's case, however, that show is Game of Thrones, and knowing each episode's ending before he's watched is something of an occupational hazard…literally. In Entertainment Weekly's lengthy new report about the final season of HBO's fantasy epic, Harington reveals that, although he had access to the final season's scripts well before production began, he waited to crack them open and sneak a peek at Jon Snow's fate for as long as he reasonably could without, you know, getting fired.
"I walked in saying, 'Don't tell me, I don't want to know,'" he told EW. "What's the point of reading it to myself in my own head when I can listen to people do it and find out with my friends?"
It seems that waiting until he was in a safe space to uncover the ending was the right move, since it ended up being so emotionally taxing that it left him in tears not once but twice. Though he declined to open up about the first bout of waterworks—presumably sparked by some devastating plot point—Harington did share what prompted the second, which happened as the cast finished reading through the last of the season's six episodes. "Every season, you read at the end of the last script 'End of Season 1,' or 'End of Season 2,'" he explained. "This read 'End of Game of Thrones.'"
While Harington was doing everything possible to protect himself from spoilers, his colleagues had no such qualms. Emilia Clarke, for one, ditched the friend she was with as soon as the scripts arrived in her inbox. "I turned to my best mate and was like, 'Oh my god! I gotta go! I gotta go!'" she said. "And I completely flipped out." Once she got to the end, Clarke said, "Genuinely, the effect it had on me was profound." Sophie Turner, too, zipped through the finale: "It was completely overwhelming," she said. "Afterwards I felt numb, and I had to take a walk for hours."
And though the series' cast and crew have been sworn to absolute secrecy about the events of the final season, EW did reveal a few very general details about what we can expect to go down in Winterfell when the show returns, in 2019. The season will reportedly open with a scene that mirrors one from the pilot episode, this time with Clarke's Daenerys Targaryen leading her army into Winterfell, as King Robert did all those episodes ago. Her arrival kicks off the desperate attempts of characters both new and old to prepare for the Army of the Dead's own southward invasion. "It's about all of these disparate characters coming together to face a common enemy, dealing with their own past, and defining the person they want to be in the face of certain death," the co-executive producer Bryan Cogman said. "It's an incredibly emotional, haunting, bittersweet final season, and I think it honors very much what [GoT author George R. R. Martin] set out to do—which is flipping this kind of story on its head." And, apparently, making its own stars cry.
Related: Kit Harington Auditioned for Game of Thrones With a Black Eye