The First Sneak Peek at Game of Thrones Season 8 Is Barely 3 Seconds Long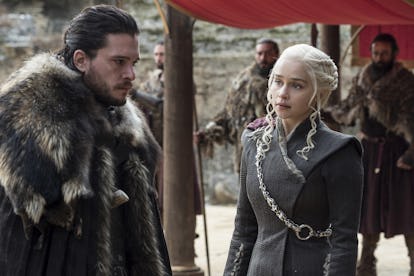 HBO
All men must die… and so, too, must all prestige television shows. But before Game of Thrones comes to its long, drawn-out end next year, Jon, Dany, Sansa, Cersei, and company will reunite for one last season. On Sunday evening, almost exactly one year after the seventh season finale aired and with months still to go until the season eight premiere, HBO surprised viewers with a blink-and-you'll-miss-it sneak peek at the final few episodes.
The new footage was buried among previews of HBO's other upcoming offerings—including new shows Camping, starring Jennifer Garner, and The Shop, LeBron James's barbershop-set talk show—plus new seasons of old favorites like Big Little Lies, True Detective, and Veep. Though the trailer included a handful of Thrones clips, as Entertainment Weekly notes, only one of those moments is actually new. The first look appears at the 1:10 mark: Jon Snow (Kit Harington) approaches Sansa Stark (Sophie Turner) and embraces her, while Sansa holds a mysterious and meaningful gaze over her cousin's shoulder. Per EW, while the hug looks similar to the one the pair shared in season six, when they reunited after a long time apart at Castle Black (and still believed they were half-siblings), this particular embrace appears to take place at Winterfell, and has never been seen before.
The final season of Game of Thrones has already been confirmed to be airing sometime in the first half of 2019. Though the season will only comprise six episodes, reports have surfaced claiming that some will be feature-length, ensuring that GoT fans definitely get their fill of the show before it's over. And though the cast and showrunners are staying tight-lipped about the content of those last few installments of the hit series, they've hinted at the emotional impact of the finale. "We had a read through last week, in fact, so I know everything now," Harington told the BBC back in October. "I cried at the end. You have to remember that eight years of it—no one really cares about it more than us." Sorry, but a lot of crazed Thrones fans would beg to differ.
Related: Kit Harington Auditioned for Game of Thrones With a Black Eye