Sophie Turner's New Tattoo Did Not, in Fact, Spoil Game of Thrones
It's actually a quote from last season.
---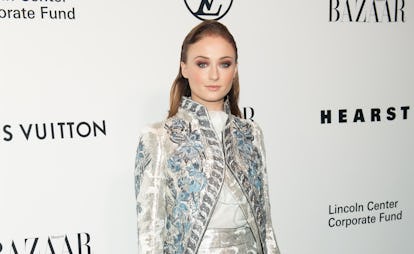 Noam Galai/Getty Images
Avoiding spoilers for Game of Thrones is about as hard as avoiding getting killed on Game of Thrones, so it's no surprise that fans jumped all over Sophie Turner's new tattoo as being a massive clue about Season 8. The tattoo in question shows House Stark's direwolf crest along with the quote, "The pack survives." As soon as fans got wind of it, they jumped straight to the conclusion that this means the remaining Stark children make it out alive. Thankfully, it turns out this wasn't a spoiler at all, at least according to Sansa Stark herself. On Thursday night, the 22-year-old actress dropped by The Late Late Show to do some major damage control.
"Yeah, actually, when I was getting it done, people advised me not to, because it looked like I was giving everything away. But I wasn't!" she told host James Corden. "It's just a quote from last season, but everyone does figure that the pack really does survive. But it's just a moral I like to live by."
Like Turner says, the quote is actually a truncated version of a quote from the Season 7 finale. After (spoiler alert!) teaming up to kill Littlefinger, the Stark sisters have a heart-to-heart at Winterfell. Quoting their father, Sansa says, "When the snow falls and the white winds blow, the lone wolf dies, but the pack survives." Which is poignant, but definitely too long for an aesthetically pleasing tattoo.
Elsewhere in the interview, Turner revealed that she got another tattoo at a party in Australia while "watching the football and drinking beer, it was so badass." This one, luckily, is devoid of anything a Game of Thrones fan could interpret as a spoiler (although it's not like they won't try). It's the initials of Turner's real-life brother, which she got on her toes.
As for a Season 8 spoiler, the actress threatened to just "get it tattooed on my forehead next time." That's the spirit.
Related: Game of Thrones' Sophie Turner Shares Her Secret to Good Hair and Skin: "Moisturize, Moisturize, Moisturize"