Kit Harington Is Most Looking Forward to Cutting His Hair After Game of Thrones Ends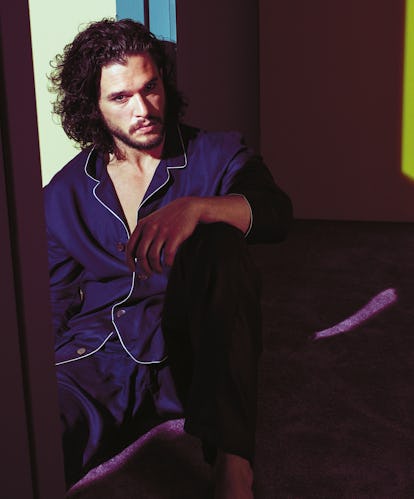 MARIO SORRENTI
Kit Harington may be one of the most recognizable actors on television, thanks to Game of Thrones, but he couldn't care less about it. When the HBO show ends after eight seasons, the thing he is most looking forward to doing…well, it couldn't be more mundane.
Harington just wants to get a haircut, after years as the long-of-mane Jon Snow. "I'd like to step away and enjoy the obscurity, cut my hair, make myself less recognizable as the character, and go do and some other things with a completely new look and tone," Harington told Entertainment Weekly. That new look will include, apparently, "short-short" hair.
While Game of Thrones is ending on a high note, Harington's desire to distance himself from his character is relatable; it's the professional equivalent of a breakup haircut. One thing, however, that Harington isn't ready to lose just yet is his beard. "The beard will be harder to get rid of — I quite like the beard," Harington said. "I like having the long hair and beard both, but it will be like ritualistic thing. I can't go into my next role looking the same. This role was brilliant, but I'll need to get rid of Jon Snow."
Truth be told, Harington can cut his hair as short as he'd like, but it still won't keep him from being recognized by zealous fans. Considering the fever pitch around his upcoming wedding to his former Game of Thrones co-star Rose Leslie, Harington isn't going to disappear from headlines once the show ends after the final season's 2019 debut. Especially as their impending nuptials are reportedly shaping up to be the wedding that GoT fans' dreams are made of. "They're getting married by a monk in a castle. It doesn't get more Game of Thrones than that. When you think about how they met, it's perfect," a source close to the pair revealed at the beginning of June. There's also the fact that Harington's film career is bustling. The actor has been tapped for Pompeii, Brimstone, and Xavier Dolan's The Death and Life of John F. Donovan.
Even though Harington is ready to separate himself from Jon Snow, he's still reeling from the ending of Game of Thrones. "We had a read-through last week in fact, so I know everything now," he said last fall. "I cried at the end. You have to remember that eight years of it—no one really cares about it more than us."