Kit Harington Rehearsed the Ending of Game of Thrones, and It Brought Him to Tears
But was it the actual ending or an alternate?
---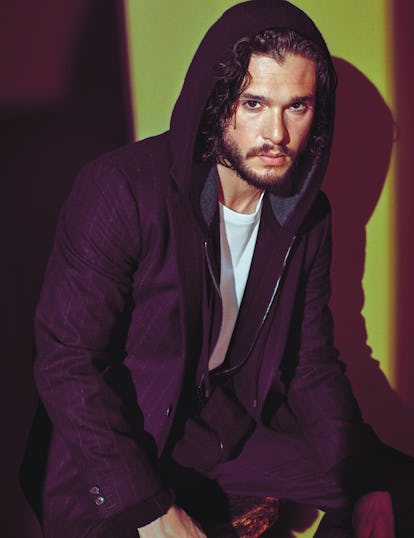 Photographs by Mario Sorrenti, Styled by Edward Enninful.
Jon Snow knows… everything. Kit Harington, who plays Jon Snow on Game of Thrones, has confirmed that he and the cast have done a table read of the series finale, and that it moved him to tears.
"We had a read through last week in fact, so I know everything now… I cried at the end. You have to remember that eight years of it—no one really cares about it more than us," he told BBC's The One Show.
Eight years of Game of Thrones, wow. That's longer than Hogwarts. that's as long as President Obama was in office. That's… it's just a really long time, you get it. "It's been an institution longer than any other institution I've been in. School, drama school, anything. I get a bit weepy thinking about it. It's going to be a strange year saying goodbye to everyone and having last scenes with this person and that person. Not only you're attached to it, loads of people around the world are attached to it," Harington continued.
Of course, he couldn't reveal anything about what was actually in all of those emotional scenes. "[I was told], 'Don't tell them you're filming. Don't take pictures in Belfast. Don't do all of that,'" he explained. HBO is working so hard to keep Game of Thrones spoilers from leaking, in fact, that they're reportedly using earpieces to give actors their lines so that the scripts won't get out. It seems like a bit much until you remember that HBO has been hacked before. And then it still seems like a bit much, but it's more understandable.
Even after they wrap, the cast and crew might not know who wins the Game. Like other long-running shows, Game of Thrones will sometimes shoot multiple versions of the same story so that no one, from crew members to onlookers, can say for sure what happens until the episode actually airs. So maybe Kit read an alternate script! Hell, maybe there is no Westeros, and this is all just happening inside George R. R. Martin's snowglobe.
Game of Thrones' Dashing Men Always Bring Their A-Game to the Red Carpet
Kit Harington, who plays Jon Snow, at the premiere of Game of Thrones season three in Los Angeles, California, March 2013.

Jon Kopaloff/Getty Images
Kit Harington at the premiere of Game of Thrones season five in London, England, March 2015.

Mike Marsland/Getty Images
Kit Harington at the premiere of Game of Thrones season five in San Francisco, California, March 2015.

Jeff Kravitz/Getty Images
Kit Harington and Rose Leslie at the premiere of Game of Thrones season seven in Los Angeles, California, July 2017.

Frederick M. Brown/Getty Images
Nikolaj Coster-Waldau, who plays Jaime Lannister, at the premiere of Game of Thrones season three in San Francisco, California, March 2013.

C Flanigan/Getty Images
Nikolaj Coster-Waldau at the premiere of Game of Thrones season five in London, England, March 2015.

Franziska Krug/Getty Images
Nikolaj Coster-Waldau at the premiere of Game of Thrones season three in Seattle, Washington, March 2013.

Jeff Kravitz/Getty Images
Nikolaj Coster-Waldau at the premiere of Game of Thrones season five in San Francisco, California, March 2015.

C Flanigan/Getty Images
Nikolaj Coster-Waldau at the premiere of Game of Thrones season six in Hollywood, California, April 2016.

Jon Kopaloff/Getty Images
Nikolaj Coster-Waldau at the premiere of Game of Thrones season seven in Los Angeles, California, July 2017.

Barry King/Getty Images
Alfie Allen, who plays Theon Greyjoy, at the premiere of Game of Thrones season three in Hollywood, California, March 2013.

Steve Granitz/Getty Images
Alfie Allen at the premiere of Game of Thrones season five in London, England, March 2015.

Franziska Krug/Getty Images
Alfie Allen at the premiere of Game of Thrones season six in Hollywood, California, April 2016.

Alberto E. Rodriguez/Getty Images
Alfie Allen at the premiere of Game of Thrones season seven in Los Angeles, California, July 2017.

Steve Granitz/Getty Images
Isaac Hempstead Wright, who plays Bran Stark, at the launch party for the first season of Game of Thrones in London, England, February 2012.

Tim P. Whitby/Getty Images
Isaac Hempstead Wright at the premiere of Game of Thrones season three in Hollywood, California, March 2013.

Steve Granitz/Getty Images
Isaac Hempstead Wright at the premiere of Game of Thrones season six in Hollywood, California, April 2016.

Alberto E. Rodriguez/Getty Images
Isaac Hempstead Wright at the premiere of Game of Thrones season seven in Los Angeles, California, July 2017.

Steve Granitz/Getty Images
Jacob Anderson, who plays Greyworm, at the premiere of Game of Thrones season four in London, England, March 2014.

Ian Gavan/Getty Images
Jacob Anderson at the premiere of Game of Thrones season seven in Los Angeles, California, July 2017.

Jason LaVeris/Getty Images
Richard Madden, who played the late Robb Stark, at the premiere of Game of Thrones season three in Hollywood, California, March 2013.

Jason Merritt/Getty Images
Iwan Rheon, who plays the vile Ramsay Bolton, at the premiere of Game of Thrones season five in London, England, March 2015.

Franziska Krug/Getty Images
Iwan Rheon and Sophie Turner at the premiere of Game of Thrones season six in Hollywood, California, April 2016.

FilmMagic/Getty Images