Kit Harington and Rose Leslie Will Reportedly Be Married by a Hooded Monk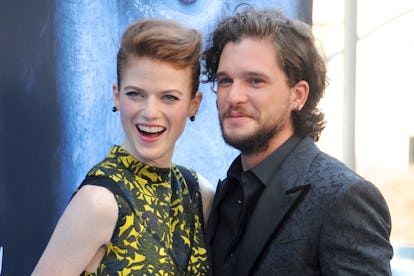 Gregg DeGuire
Contrary to his initial assessment back in October that he'd never be able to convince fiancée (and former Game of Thrones costar) Rose Leslie to have a GoT-themed wedding, it seems that Kit Harington has in fact been able to slip several nods to Westeros into their upcoming nuptials. In April, the Daily Mail reported that Harington and Leslie had used the Royal Mail's limited-edition GoT stamps—more specifically, those featuring an up-close shot of Harington as Jon Snow—to send out their wedding invitations. Now, The Sun claims that the duo have chosen a wedding venue and officiant that wouldn't be unfamiliar to Jon and his wildling love Ygritte.
"They're getting married by a monk in a castle. It doesn't get more Game of Thrones than that. When you think about how they met, it's perfect," a source told The Sun. The officiant will reportedly be Father Chad Boulton, a hooded Benedictine monk from the Ampleforth Abbey in England. "They were delighted to meet Father Chad, who's really looking forward to the big day. They had a chat about how they want the service to go." The service is said to be taking place at a castle in Aberdeenshire, near the Scottish castle where Leslie grew up and where her family still lives. Perhaps the only difference between Harington and Leslie's wedding and Jon and Ygritte's (had she, you know, not died before they could tie the knot) is the rumor that the 200 guests at the former's reception will be treated to a performance from Mumford & Sons, since they, unlike another famous British musical act, have yet to pop up in the GoT universe.
The wedding is scheduled to take place on June 23. Last week, according to the BBC, a notice of the upcoming nuptials, including the scheduled date, was posted in a registration office in Aberdeenshire, in accordance with English law. Similarly, Harington and Leslie's engagement was previously confirmed via a similarly nondescript notice, this one in The Times newspaper in September. "The engagement is announced between Kit, younger son of David and Deborah Harington of Worcestershire, and Rose, middle daughter of Sebastian and Candy Leslie of Abderdeenshire," the small, picture-less announcement read.
Related: Kit Harington Auditioned for Game of Thrones With a Black Eye