Kit Harington Reveals He Messed Up His Proposal to Rose Leslie
Though, he plans to invite the entire "Game of Thrones" cast.
---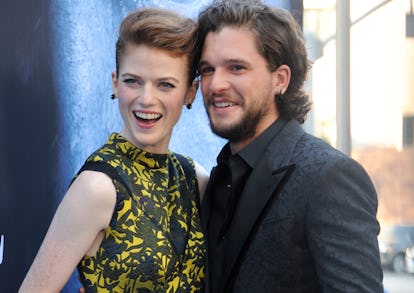 Getty Images
Kit Harington and Rose Leslie made all Game of Thrones fans' (and Nicole Kidman's) dreams come true when they confirmed their engagement last week. Not surprisingly, their announcement, which ran in The Times newspaper, was posh and classic. "The engagement is announced between Kit, younger son of David and Deborah Harington of Worcestershire, and Rose, middle daughter of Sebastian and Candy Leslie of Aberdeenshire," the announcement read.
However, the exact proposal apparently wasn't quite as perfect. In a new interview with Jonathan Ross, Harington reveals his engagement plans went awry when he asked the golden question a little too early.
"I did have some plans to do it, I was going to string up some lights in some trees and do all the romantic stuff but we were in the country and we were under this beautiful night sky and had a log fire burning and red wine and I blew my load early," he said, according to The Sun.
Realizing his, erm, peculiar choice of words, he quickly clarified, "I was meant to do it the day after with the lights. What I meant to say was, I popped my question a bit early. Not blew my load…Sorry that's a really bad expression."
The couple is now in full wedding-planning mode; Harington revealed to Ross he told the Game of Thrones producers that the show has to shut down for their wedding so everyone can attend. After all, Harington and Leslie did meet on set.
"I was like, 'You need to factor in a Game of Thrones wedding by the way.' They [the cast] have all got to be there so the whole thing has got to shut down."
Hopefully, unlike the proposal and most weddings on Game of Thrones, it goes off without a hitch. Catelyn Stark actress Michelle Fairley really deserves the chance to attend a nice nuptial ceremony for once.
More from Glamour: Why Jon Snow Is the Ultimate Male Feminist
Kit Harington Gets No Attention With a Birthday Right After Christmas: