Kit Harington and Rose Leslie Are Getting Married in Less Than a Month
The other royal wedding has a date.
---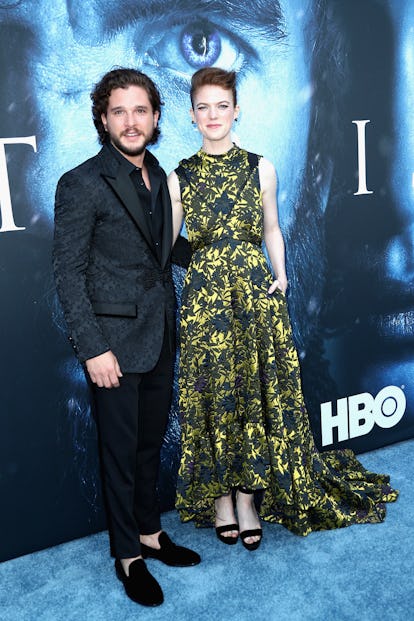 Frederick M. Brown/Getty Images
Ladies and gentlemen, the other royal wedding has a date: Kit Harington and Rose Leslie are getting married on June 23, per a report by the BBC on Friday. Just when we were mourning the end of the flood of Meghan and Harry news, the former Game of Thrones co-stars have swooped in to provide a fitting continuation of summer wedding season. (Polite of them, too, to allow the royal couple to claim the spotlight before hosting their own nuptials.) The current intel indicates Harington and Leslie will be married in Aberdeenshire, in the northeast Scottish highlands; Leslie's father is a Scottish politician and owns a castle up there. (It's not Windsor Castle, but it's not bad.)
The pair met on the set of Game of Thrones in 2012 and have been dating for six years; their engagement was first announced last September, in the most traditional British fashion: With an ad taken out in The Times's classified "Forthcoming Weddings" section. Shortly after the announcement was picked up, Harington added a bit more detail on the engagement in an interview on the Jonathan Ross Show, now-famously explaining he "blew [his] load early." That is, he proposed a day ahead of plan because, though he hadn't strung up fairy lights as he had intended, there was a log fire and red wine and the ambience was apparently just too good.
With less than a month till the date, we shall await with bated breath to hear more about the catering, the flower arrangements, the music, the dress, and the guest list—all the trappings of a true royal wedding. Among our aspirational attendees are Nicole Kidman, who is probably a lot of fun at parties and also pressured Harington to propose to his then-girlfriend last year, and, of course, the whole cast of Game of Thrones, including the dire wolves. Leslie, who has appeared front-row at Altuzarra, Christopher Kane, Erdem, and Emilia Wickstead—who was, at one point, rumored to be the designer of Meghan Markle's dress (she ended up in custom Givenchy)—certainly has the fashion credentials of actual royalty.
Related: Kit Harington Reveals He Messed Up His Proposal to Rose Leslie
The Best in Westerosi Couture, As Seen on Daenerys Targaryen, Cersei Lannister, and More
Though Game of Thrones's fictional fantasy world presumably takes place centuries before our contemporary—how else do you explain the lack of wifi?—Cersei Lannister's Balmain-inspired looks are light years ahead of Olivier Rousteing's own imaginings.

Courtesy HBO
When Euron Greyjoy, the usurper uncle of the Ironborn siblings Yara and Theon, washed ashore at King's Landing earlier this season, he did it with a whole new look: close-cropped hair, a strategically scruffy beard, and a draped leather look that some viewers likened to Rick Owens or early Yeezy. (By way of Pirates of the Caribbean, naturally.)

Courtesy HBO
Jon Snow might not show off the greatest variety in his wardrobe choices—his staples of black cloaks and black furs don't leave much room for experimentation, it seems—but what he lacks in originality he makes up in resourcefulness. Take, for example, his aforementioned furs: Clapton revealed in an interview last year that Jon Snow's plush capes are made of Ikea rugs, shaved down, cut to size, and fastened in place with leather straps. What, you've never curled up in your $30 Rens?

Courtesy HBO
Westeros's foremost mall goth wears body chains, harnesses, and, like her stepbrother, plenty of fur. Also like Jon, her look doesn't change much from week to week; that doesn't make it any less fabulous. It's like Hot Topic, but make it diva and top it off with a wolf brooch.

Courtesy HBO
When Daenerys—don't call her Dany—swoops in on dragonback to save Jon Snow et al. from the White Walkers and their Army of the Dead who are steadily closing in, it wasn't yet another dragons-vs.-humans battle sequence that inspired awe in viewers. No, it was Daenerys's black-and-white fur coat, which radiated power with its structured silhouette and strong shoulders. Some proposed it looked something like Fendi couture; others, the pelt of Jon Snow's missing direwolf Ghost. Plus, her collection of dragon brooches rivals only Sansa's collection of wolf brooches.

Courtesy HBO
When Arya Stark first arrived at the House of Black and White to train to become a Faceless Man, she dumped her old clothes and her silver into the harbor, hiding only her beloved sword Needle as a reminder of the murder list she still had to check off. With her old digs rotting at the bottom of a canal somewhere in Braavos, Arya has reinvented herself as an almost-Faceless woman with a whole new wardrobe. She's apparently fond of quilting in all its shapes: In the first episode, she wears a quilted vest with an embroidered jacket over the top; in the most recent, episode 6, it's an asymmetrical quilted capelet.

Courtesy HBO