The Final Season of Game of Thrones Will Air in 2019
One last adventure in Westeros.
---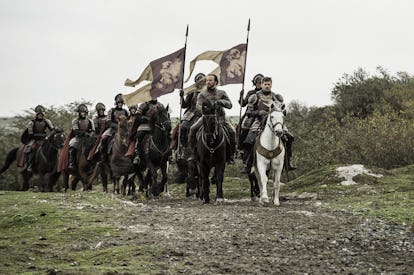 HBO
As has long been rumored and basically confirmed by Sansa Stark herself, Sophie Turner, the eighth and final season of HBO's mega-hit fantasy epic Game of Thrones will air some time in 2019.
Per HBO's announcement, the final season will be six episodes long, though each episode will be feature-length, by some reports.
The reason for the lag between seasons is the lengthiness of the episodes, plus the significant amount of time needed to produce and edit them. The season is reportedly being shot, and the finale has already been written—it even brought Kit Harington to tears!
Wrapping the series is just as tough for the rest of the cast. As Turner put it, "When we all had the read-through for the final season, it was very, very emotional. For the first time in Thrones history, we had everyone there. All of the Americans wanted to come over. Every single cast member was pretty much there. We're all kind of feeling the end of it coming. We're all staying in town a little longer, going out for more meals, trying to get together more. We're all trying not to take it for granted any more." But she's keeping her lips sealed about what the future holds for Sansa, even among her own family. Turner, who is engaged to Joe Jonas, isn't telling brother-in-law-to-be Nick Jonas what becomes of her character. He'll just have to wait until 2019 like the rest of us.
So, this latest confirmation means you have an entire year to catch up if you aren't into the series yet. And if you're on the East Coast, you can use the upcoming Bomb Cyclone as an excuse to stay inside to binge on HBO Go. After all, Winter Is Coming Now.
Related: Emilia Clarke Says Game of Thrones Taught Her About Feminism
Celebrity Capricorns: See Photographs of Sienna Miller, Bradley Cooper, Kate Moss and Other Stars With the Same Astrological Sign
Photo of Mary J. Blige by Inez Van Lamsweerde Inez and Vinoodh Matadin for W Magazine.

VAN LAMSWEERDE INEZ & MATADIN VINOODH
Photo of Kate Moss by Mert Alas and Marcus Piggott for W Magazine.

Mert Alas and Marcus Piggott
Photo of Ellen DeGeneres by Michael Thompson for W Magazine, March 2007.
Photo of Jared Leto by Inez Van Lamsweerde and Vinoodh Matadin for W Magazine.

VAN LAMSWEERDE INEZ & MATADIN VINOODH
Photo of Cynthia Erivo by The Eastern Conference for W Magazine, September 2018.
American actor, Denzel Washington, born December 28th. Photo of Denzel Washington by Dan Winters for W Magazine.

Winters Dan
Photo of Harmony Korine by Andreas Laszlo Konrath for W Magazine.

ANDREAS LASZLO KONRATH
Photo of Jim Carrey by Caitlin Cronenberg for W Magazine, September 2017.
Photo of Ralph Fiennes by Ari Marcopoulos for W Magazine.

Ari Marcopoulos