Eastern Promises
W's beauty editor heads to cosmetics-crazy South Korea in search of beauty's next big thing.
---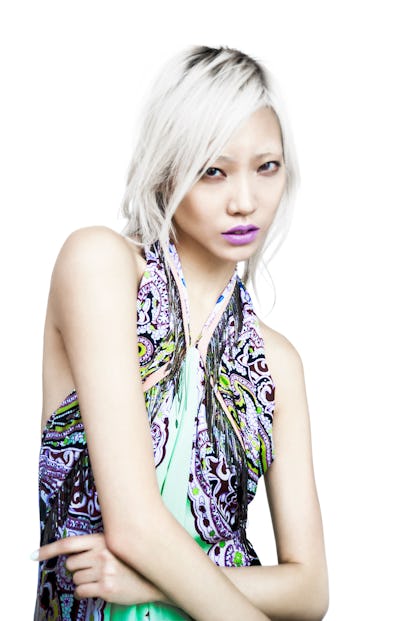 Photographer: Erik Madigan Heck Stylist: Lindsey Frugier
It's prime time in Seoul, and on the TV in my hotel room a panel of women are conducting a painstaking analysis of facial cleansing wipes. They test and retest the towelettes on the backs of their hands, stretch them, smell them, call on audience members to comment, and nod seriously at one another's detailed observations. It's not an infomercial, but Get It Beauty—one of several Korean TV shows devoted to vetting beauty products. This exercise is not taken lightly in a country that made BB creams (all-in-one "beauty balms") the biggest international cosmetics phenomenon in years, requires head shots on job applications, is one of the world's cosmetic-surgery capitals, and is home to women with the most extensive skincare regimen on the planet. South Koreans know beauty. And the very thorough panel on my TV has left me with only one question: Where can I buy this stuff?
Fortunately, I have a guide—Alicia Yoon, 32, of Peach and Lily, a New York e-tailer of beauty finds from South Korea and Japan. Yoon, a Harvard Business School graduate who started the site a little over a year ago with her Wharton School–educated partner, Cindy Kim, 29—both are Korean-American—has invited me to join her on a weeklong beauty-hunting excursion. "Koreans are superknowledgeable, they're highly connected since there's WiFi everywhere, and the society is somewhat conformist, so trends catch on fast," says Yoon, a petite former competitive diver with long wavy hair, eyelash extensions worthy of a Hollywood starlet, and the same glowing, translucent skin that's nearly universal among the women of Seoul. We're on our way to the headquarters of Cremorlab, a new skincare line featuring water from the mineral-rich Geumjin hot springs on Korea's northeast coast. "Brands constantly innovate and churn out products to keep up," Yoon says. "Consumers get very spoiled." Indeed, the discoveries Peach and Lily has brought to the U.S. have been so impressive that brick-and-mortars like Woodley & Bunny and Urban Outfitters carry selections from its roster of imports. They're right on trend: According to the Korea Tourism Office, the country is poised to export more beauty products than it imports within the year.
At Cremorlab, Yoon is able to tick off all her boxes: chic packaging, buzz from her favorite Korean beauty blogs, and a potent star ingredient. The brand was granted exclusive rights to the country's hot springs by the government and plans to open a spa there in time for the 2018 Winter Olympics, which will take place an hour's drive away. It's the first cosmetics venture from Tongyang, one of Korea's many multi-industry conglomerates, which also specializes in, among other things, financial services and cement production. Though new to the field, the company has managed to build a viral presence on Korea's hugely popular beauty message boards, where reviewers can make or break a product overnight. A favorite is the Ten Cremor for Face Smooth Pudding, an antiaging cream that feels like custard and melts into the skin. Yoon decides to introduce the potion, and 11 other Cremorlab products, on her site immediately.
Celebrities hold serious sway in the Korean beauty realm—especially actresses on the hugely popular TV dramas and the stars of K-Pop, who have stormed Asia in recent years. "When people find out what the actresses use, the products sell out internationally," says Yoon, as we head out for manicures at the Nail Studio, a well-known celeb haunt in Seoul's Cheongdam-dong neighborhood.
Mira Jang, who owns the salon, set up her own shop after a TV camera happened to zoom in on the nails of a client. Suddenly, fans were flying in from China to get an appointment with her. Aside from nail art—whimsical symbols and patterns painted over clear base coats are big—Jang specializes in mixing custom gel colors. Pastels with light gray accents are popular for spring, she says, as are purples like Radiant Orchid, Pantone's color of the year.
"Radiant" is a word that's hard to escape here—and it applies to more than just nails. Glowing, über-moisturized, babylike skin has become the hallmark of Korean beauty in the past five years, and it has not only set off an avalanche of nuanced terms for glowiness like chok chok (which essentially translates to "plump and moist"), but also sparked a boom in innovative products that go well beyond BBs. The most successful example is the air-cushion compact from the Korean beauty giant AmorePacific. Sponge compacts impregnated with creams that offer coverage and other benefits, including high SPF, now make up more than 40 percent of the country's foundation market—and women rave about the no-makeup look and luminosity they impart. In the States, there are two so far: AmorePacific Color Control Cushion Compact SPF 50, launched last year, and BB Cushion SPF 50 by Laneige (a brand owned by Amore-Pacific), which Target rolled out in February.
Of course, there's no resting on one's laurels—or foundation cushions—in this hypercharged market, so AmorePacific is now concentrating on finishers. First introduced through the company's Sulwhasoo and Espoir brands, finishers serve as the last step in a skincare routine, "sealing in" the effects of other products and adding a hint of glow before makeup is applied. Luminature Essential Finisher will hit the U.S. in September, and other Korean brands—including Su:m37, which is owned by the electronics company LG—are eagerly rolling out their own versions, lest they miss out on the latest trend.
But in Seoul, some beauty treatments are more than skin-deep—literally. "I heard about these shots that make you insanely moisturized and glowy," Yoon tells me on our way to visit Dr. Myer's, one of Seoul's "petite clinics" devoted to noninvasive medical procedures. It's located in the plastic surgery district, which is plastered with before-and-after ads and chockablock with hotel-hospital hybrids. The in-house dermatologist, Chang Yul Kim, confirms the existence of such a treatment, Restylane Vital, involving dozens of mini-injections of hyaluronic acid. With a smaller particle size than typical hyaluronic fillers, these shots—which are not yet FDA approved in the U.S.—are not meant to build volume or fill deep lines but rather to impart radiance and heavy-duty hydration. And they're hardly the only procedure on the Dr. Myer's menu that I'd never heard of. Also on offer are Botox injections to slim muscular calves and barbed threads inserted into the skin beneath wrinkles to stimulate collagen production.
Dr. Myer's is owned by Nabion, a company founded by a group of former AmorePacific researchers who also created the skincare brand Mizon; its snail enzyme and starfish extract creams are top sellers on Peach and Lily. Dr. Myer's–branded products are now hitting shelves, including a glow-boosting cream with dandelion extract and 28-day antiaging kits that hold ampoules of active ingredients. Yoon decides to pick up the line for spring—though she may leave out the Phyto Energy Placenta Ampoules. They're made from beans, not real placenta, she points out, but the term might scare Western customers off.
The product that's most likely to land on Stateside vanities in the next six months is, happily, less ick-inducing. It's a liquid "essence" applied after cleansing for its hydration and other benefits. The category was kick-started by the success of the Japanese brand SK-II's Facial Treatment Essence and has snowballed throughout Asia, with countless varieties now on the market. Many are heading west: Clinique introduced Even Better Essence Lotion to the U.S. this April, and Estée Lauder Micro Essence Skin Activating Treatment Lotion will arrive in July, having made its debut in Asia last December. "Korea is a hypermarket, fast moving, and they are very into skin," says Anne Carullo, senior vice president of global product development at Estée Lauder and Tom Ford Beauty. "It has emerged as an extremely influential place to watch how trends emerge."
Yoon thinks I might like something in the essence family called Raw Sauce Acer Maple Water, from the small Korean brand May Coop. Made with maple tree sap, it boasts hydrating molecules said to be the ideal size for penetrating skin and has acne-fighting antibacterial properties. I pat the sweet-smelling fluid onto my skin as instructed, and it absorbs fully in a few seconds. Instantly, I'm feeling chok chok—a quality I now suddenly desire very much. No surprise, Yoon tells me: It was a big hit on Get It Beauty.
Seoul-born model Soo Joo Park wears an Etro dress.

Photographer: Erik Madigan Heck Stylist: Lindsey Frugier
Alicia Yoon and Katie Becker shop the streets of Seoul. Photograph by Park Sang Yo.
Sulwhasoo Luminature Essential Finisher, on display. Photograph by Park Sang Yo.
Inside the Olive Young beauty store. Photograph by Park Sang Yo.
Becker with researchers at AmorePacific headquarters. Photograph by Park Sang Yo.
Yoon and Becker in the Myeungdong beauty district. Photograph by Park Sang Yo.
A tea break at a traditional Korean teahouse. Photograph by Park Sang Yo.
The beauty store Olive Young displays products featured on the Get It Beauty TV show. Photograph by Park Sang Yo.
Nail artist Mira Jang. Photograph by Park Sang Yo.
Creams of the latest crop
The Cremorlab line hydrates skin gently with hot springs mineral water found in Geumjin (from $28, peachandlily.com).
May Coop's products leave skin dewy, thanks to maple tree sap from Jiri Mountain (from $30, peachandlily.com).
Inspired by the growing trend in essences, which are all the rage in Asia, Estée Lauder is introducing Micro Essence Skin Activating Treatment Lotion, a lightweight formula that delivers fermented antiaging ingredients deep into skin (out in July, $95, esteelauder.com).
AmorePacific's Future Response Age Defense Dual Eye Creme SPF 25 uses green tea extract to fight skin cell damage day and night (*$150, sephora.*com).Laneige (the latest AmorePacific brand coming to the U.S.) specializes in skin brightening (from $22, target.com).