Why Watermelon Is the Hottest Korean Skincare Trend Right Now
Here, two K-beauty experts explain the trend.
---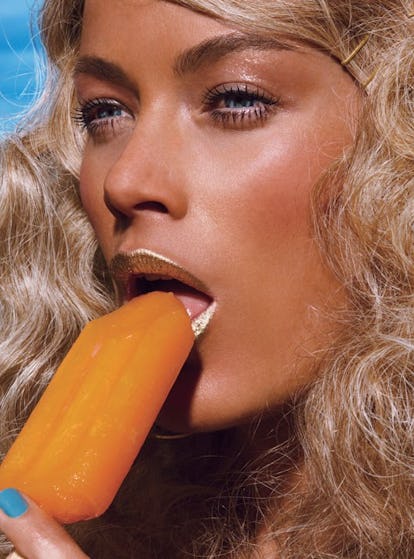 As our beauty routines change with the seasons, it's important to look to new ingredients that have seasonal benefits. This summer, Korean beauty experts and Glow Recipe co-founders Sarah Lee and Christine Chang recommend keeping an eye on a surprising ingredient: watermelon.
"Watermelon is one of Korea's most popular fruits. It symbolizes family get-togethers, mother to daughter DIY skincare sessions, and is a powerful hydrator," says Chang. "[Growing up] our grandmothers would cut thick slabs of the chilled fruit and rub the rind on our backs and legs, as a soothing cure-all for heat rash and irritated skin – a well-known tradition in Korea."
Here, the K-beauty duo break down why watermelon and other natural fruits are skincare's next big trend, and how they're incorporating it into their own line.
What are the skincare benefits of watermelon?
Sarah Lee: "Watermelon as 92% water content and is rich in vitamins A, B6 and C, amino acids and lycopene. It's also incredibly antioxidant-rich and is a great hydrating and soothing ingredient for skin year-round. The lab we worked with in Korea sources only locally grown watermelon in order to obtain the freshest, most vibrant fruit for the formula.
My mother is my skincare role model and advisor, from whom I learned most of my skincare tips and watermelon was one of her go-to DIY facial ingredients. She used to grate cold, refrigerated watermelon rind in thin, almost see-through slices to put on my face as a cooling and soothing mask. This was especially effective after having been exposed to the sun or on acne breakouts in my teens."
What are the skincare benefits of blueberries?
Christine Chang: "Blueberries are packed with anthocyanin, a flavonoid which is a potent antioxidant. We wanted to develop a cleanser that would leave the skin so hydrated and bouncy that there would be no need for a toner. We went through countless formulas until we hit on this combination of antioxidant rich blueberries, hyaluronic acid and AHAs to create a formula that was deep cleansing, but gentle and extremely hydrating."
How you determine which ingredients to use in your products?
Christine Chang: "Ultimately it comes down how the fruit or plant extracts have been used and combined with other botanical or scientific skincare ingredients. While we love natural ingredients, our approach is holistic – we look at how the formula works instantly and over time on our team but also our multi-ethnic tester panel, the experience of the texture on skin and what ingredients have and haven't been used in the formula."
Are there seasonal fruits that work better in the winter time vs. the summer?
Sarah Lee: "We think that many fruit ingredients can be used year round! Watermelon for example is ideal for year-round use as it's a powerful yet gentle hydrator. Our recommendation would be to revisit your skin concern by season – if you have more oily or combination skin, choose fruit extracts in formulas that are lightweight and have a blend of soothing, balancing ingredients. With dry skin, we'd recommend whipped or more creamy textures and water-binding ingredients that can hydrate and nourish the skin."
The Best Korean Beauty Products According to W Editors
India Salvor Menuez's Version of Botticelli's The Birth of Venus Is Still Naked, but Much Snarkier