Kourtney Kardashian's Birthday Dinner Doubled as a Kanye West Album Listening Party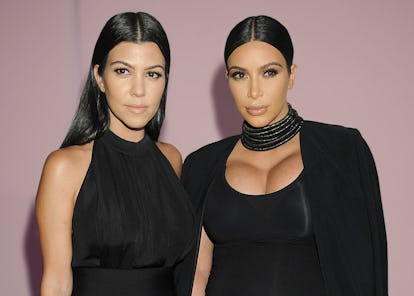 Composite. Gregg DeGuire/WireImage/Getty Images
For the Kardashians, family always comes first, especially when previewing upcoming projects before the general public can get a taste. Such was the case for Kourtney Kardashian's 39th-birthday celebration on April 19, which turned into an album listening party for her brother-in-law, according to her sister Kim Kardashian, who tweeted about the upcoming Kanye West albums in the middle of the night.
First, Kris Jenner gave Kourtney a birthday toast, with a full glass in hand, that both Kourtney and Kim documented on their respective Snapchat and Instagram accounts. "You taught me how to be a mom," Jenner told her eldest daughter in between puffs of a cigarette. "You were there first, and I love you more than I say, and I love you more than life itself," she continued as Michael Jackson's "Billie Jean" blasted in the background.
What began as a quiet, small family affair then turned into a listening party for West's new albums—a seven-song solo project, a joint album with Kid Cudi titled Kids See Ghost, and albums by Teyana Taylor and Pusha T, both of which are ostensibly produced by West—slated to drop at various points during the month of June.
West was present at the party, along with Kendall Jenner, Stephanie Shepherd, Larsa Pippen, and many other close friends of the Kardashians (Khloé Kardashian is hanging back in Cleveland with her newborn baby, True Thompson), and gave the crew an advanced preview of the Teyana Taylor album, as well as Kids See Ghosts, which Kim tweeted could potentially rank as her favorite of the highly anticipated projects.
The Kardashians made sure the rest of us will have to wait until Gemini season to feast our ears on the new West projects, being careful not to record any snippets of the music in their Snapchat and Instagram stories; however, one thing is for sure: "Despacito" is still going strong as the official Kardashian dance party bop of choice.
Related: Kim Kardashian Announces All DASH Stores Are Closing, Marking the End of an Era