Kourtney Kardashian Now Has A Model-Approved Lob
Following in the footsteps of her own sister, Kendall Jenner.
---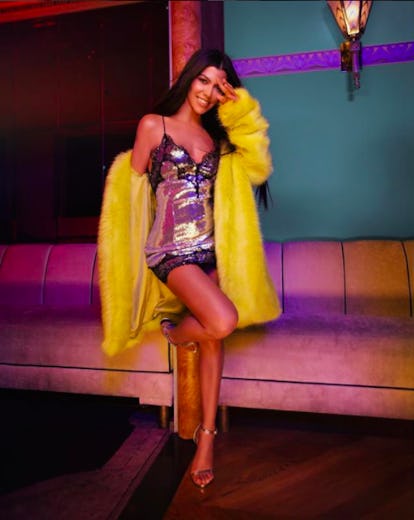 instagram.com/kourtneykardash
Out of all of the Kardashian-Jenner sisters, Kourtney Kardashian presses reset on her look the least. Not that she needs to: the eldest family member has become the household advocate for natural beauty, and given her commitment to health living, has made a habit of avoiding things like hair dye and, with that, dramatic transformations. But, over the weekend, she proved that the two aren't mutually exclusive when she unveiled a short haircut. Kardashian could almost be mistaken for any one of her other sisters in the photo she later posted of her new lob. In part that's because every one of them has tried the trendy hairstyle and, also, because one hairstylist has been behind it. Andrew Fitzsimons, who also styles lob enthusiasts Kylie Jenner and Khloe Kardashian, shared the look on his Instagram, confirming that Kourtney's short hair is, indeed, her own, and not a wig, as many had speculated. "✂️??‍♀️✂️ #KourtneyKardashian #hairXandrew @styledbyhrush," he wrote in the caption.
For comparison, this is what her hair looked like before.
If Fitzsimons looks familiar, that's because the hair stylist was recently captured on Kardashian's Snapchat. Back in late October, Fitzsimons and Kardashian cemented their commitment to hair when the pair turned a bathroom in the club into a makeshift hair salon. "Just a little ponytail trim," Kardashian said with a laugh in a video where Fitzsimons sculpted her long locks with his scissors over a toilet. "When you give #KourtneyKardashian a quick ponytail trim in the bathroom stall before the red carpet..," he wrote on Instagram, where he also posted the video.
Kardashian's hairstylist has given tutorials before, but never quite like that one. His tips are most often in the captions of his posts, like a recent one of Kourtney when her hair was much longer, where Fitzsimons wrote, "Instead of a conventional wavy look, sometimes I like to just bend random parts of the hair in different directions for a more 'model off duty' lived-in vibe."
He also shares pointers for looks he's created for Kylie. "I ♥️ texture," he recently wrote in the caption of a photo of the 20-year-old. "An easy way to create instant texture is to blowdry with a little volume or a relaxed wave, then flip your head upside down and spray in a texturizing spray. I usually use @AlternaHaircare Perfect Texture Spray. Then use a tiny bit of serum in the ends for definition and healthy looking ends."
And there you have it.
Related: Kim Kardashian Acknowledges Accusations of Blackface in KKW Beauty Campaign
Keri Russell Acts Out the Reactions to That Infamous Felicity Haircut