Let Kri Luna, Ukraine's Most Rebellious Pop Star, Be Your Kiev Travel Guide
The Ukrainian pop star gives us the low down to her hometown, right in time for Mercedes Benz Fashion Days Kiev.
---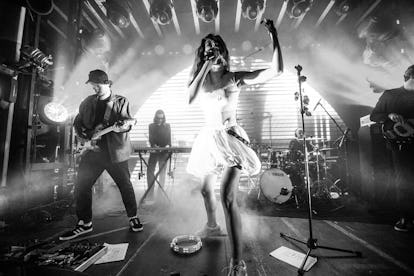 Dmitriy Semyonushkin
Growing up in the Ukraine in the 90s, singer Kristina Bardash—who goes by Kri Luna in the pop star world—was fully immersed in the birth of Russian pop music. So it's only fitting that Bardash, who released her first album last year, is currently heralded as a leading voice of the post-Soviet youth. Bardash has cultivated a unique, sultry, and sophisticated sound, one she describes as "pop with echoes of electronic and rock." You find yourself entranced by her nostalgically moody synth pop melodies, without even understanding a word of Ukrainian. This fall she'll release her second album to a bevy of adoring fans who relate to her lyrics of self discovery and relationship woes. Her Instagram account is equally transfixing; an eccentric, low-fi diary of daily happenings, from lip syncing songs in bed, to dancing in her living room as her toddler constantly nags her.
In honor of Mercedes Benz Fashion Days Kiev, which began today, Ms. Bardash gives us a guide to the best spots in her hometown. "All my roots are in Kiev, it is the source of everything native to me, it gives me my power and my strength," she explains. "For me, it is truly the best city in the Universe."
Favorite place to dance and let loose:
Closer and Scheme are two clubs that have already become iconic. You can really get lost there, but you also feel refreshed and inspired.
Favorite techno party:
Festival Brave Factory. This year was very cool—the festival deserves attention, and everyone should visit it at least once. The atmosphere is similar to Berlin.
Favorite spot for a morning espresso:
I like to have my coffee with almond milk in a vegan cafe in the market of Basarabe, it is a cool spot. There are also a few cool cafes located nearby like Vietnamese Hi, Vegano, Salad In a Glass—you'll always end up running into tons of friends.
Go-to restaurant for dinner with friends:
Restaurant Vino e Cucina is my favorite Italian restaurant in Kiev. But it's more than a restaurant – the chef has clearly put his soul in there. The food is so delicately cooked and truly melts in your mouth. I'm ready to have breakfast, lunch, and dinner there. I recommend the salmon tartar, buckwheat pasta, and mozzarella appetizer for dinner.
Favorite spa-cation:
Tsarsky City Resort! I was given a season pass there. It is an ideal place for relaxation and recovery, especially the Spa Lounge zone. It is a paradise for girls who want to get a head start on anti-aging and maintaining shape. You leave the spa and end up looking like a doll! It is beautiful, quiet, and there are always very few people there. The muted, ultraviolet lit rooms immerse you in an atmosphere of relaxation.
I also love this nail design studio called Nails By Lea. It is founded by Lea Zotova, and she has a completely unique approach to nail design, I call her my eternal master. She created a super cozy and pleasant atmosphere, and does the best manicure in the world. Everyone always asks me where I get my magic nails. She also does eyebrow tweezing. In the back there is a showroom of Ukrainian designers, as well as organic cosmetics.
To get my hair done I head to Ertekub. I love their attention to detail, and they really work with their clients to make sure they get the look they want.
Spot for a healthy meal:
Salad in a Glass, Ona Planet, and Cafe Ginger. To be honest, I love healthy food. There's also a great fitness menu in the lounge zone of Tsarsky.
Favorite one-stop shop:
Kiev Central Department Store, I live very close and often run in for pantyhose, and underwear. It even has my favorite sushi spot called Egerzund.
Favorite watering hole:
OKNO Window – it's where the most beautiful and fashionable kids in Kiev go to eat delicious ice cream, OR drink tea or cider. They also have Ping Pong tournaments!
Kiev's best-kept secret:
Master Club. It is a space run by my super talented friends Sasha Mazhar and Armen Parsadanov. They host parties, jazz evenings, DJ sets, and movie nights. The coolest people go there, and it's always a cultural experience!
Favorite lunch spot:
Chinese HI Cafe which is run by two friends of mine, Misha and Dasha Katsurin. It's a super nice restaurant and the Chinese food is super delicious… I feel like I'm in New York whenever I go there.
Related: Meet Astrid S, Norway's Answer to Katy Perry—And Music's Next Pop Princess
Katy Perry Confesses to Crying to Some of Her Own Songs