Kristen Stewart Runs to a Beyoncé Song in Latest Chanel Ad
She's giving Bey a run for her money, literally.
---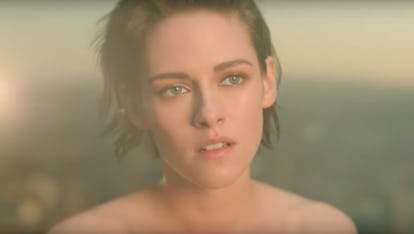 Chanel
Kristen Stewart's identity is so tangled up with Chanel that, countless campaigns later, the two have finally become one. In the new ad for the luxury fashion house's Gabrielle fragrance, the actress basically plays herself even as she pays homage to the house's founder Coco Chanel. As Chanel's head of global creative resources Thomas du Pré de Saint-Maur explains in a statement, "Instead of retracing [Gabrielle Chanel's] life, we chose to put the spotlight on her free and rebel-at-heart personality."
The one-minute clip begins artfully with the iconic brand's muse cloaked in a web of gauzy fabric. Once Stewart finds her way out of the cocoon-like swath, she breaks free and sprints to what might be Beyoncé's most overlooked song: a one-off she released in between her self-titled opus and Lemonade in 2015 dubbed "Runnin' (Lose It All)," produced by Naughty Boy who helped jump start Zayn Malik's solo career that same year. While the video's concept isn't narrative driven it sure is pretty to look at. Kristen Stewart makes running look more like performance art than a workout, as bits from her translucent gown fly behind her and fireworks rain down. Not to mention, her short brunette hair (obviously, this was filmed before she buzzed it off and bleached it) and natural makeup stay perfectly put. "We deliberately took the opposite line from storytelling," du Pré de Saint-Maur says.
Perhaps not surprisingly, the ad isn't Stewart's first fragrance campaign. Before she was an official ambassador for Chanel, she was the face of Balenciaga's Florabotanica perfume. These days, however, the bulk of Stewart's modeling work is for the Karl Lagerfeld led house, as she was the face for, most recently, the Gabrielle bag and the Spring 2017 beauty campaign and many more before that. By this point, she may be one of the few in the world who remains unfazed by Lagerfeld.
"Karl has always, from the very beginning, made me feel like being myself was the right thing to do. And in [the fashion] world, that is a rarity," Stewart told V earlier this year. "He's a compulsive and obsessive artist, and it's contagious. And he's kind. He is who he is for a reason. I feel so lucky to be in his space so often."
Related: Lily-Rose​ Depp is a Bundle of Contradictions in Her First Chanel Commercial
Kristen Stewart Takes W's Screen Test: